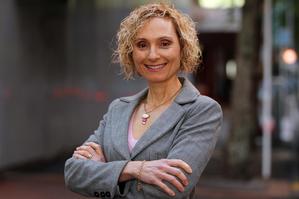 Two new Zealand authors, concerned at the importance of children's emotional development, are writing a book designed to help parents raise children who can form healthy intimate relationships in adult life.
Sophie Foster, director of the Jumping Beans children's programme, and clinical psychologist Robyn Salisbury, director of Sex Therapy New Zealand, are working on a book, Love Baby Love, which will give advice to parents on raising emotionally stable kids, drawing on real-life Kiwi stories about childhood experiences.
Salisbury says a "huge gap" in parenting skills to bring up emotionally well-developed children needs to be "seriously tackled".
Without good role modelling, children risk growing up unable to establish good relationships and engage in their lives.
Instead as adults they constantly seek excitement, taking risks, such as having an affair.
Parents need to model how good relationships work, Salisbury says, and show within the home how conflict is dealt with, teach empathy, demonstrate good communication and a balance of power.
"Children need help to understand their needs, feelings and responses to develop their emotional side well."
Foster adds that by teenage years it can be too late to teach empathy and sound emotional development. The years between birth and five are critical, she says.
Without that early role modelling, adults needed outside stimulus - be it alcohol, drugs or sex - to calm themselves and balance their emotions.
Without that balance, young people could indulge in dangerous risk taking and as adults might have difficulty forming steady relationships, instead constantly seeking the endorphin high of "falling in love".
* Love Baby, Love is due to be published next year.