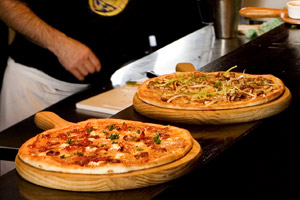 Kate, Gisele, Elle, Cindy, Naomi... We're pretty sure these girls don't eat pizza, but we love that a newly-opened New York-style pizza bar on Dominion Rd has named all its dishes after them.
The aptly named Gorgeous is owned by Wayne Hull, who has big plans to have live music nights and beautiful girls serving the food. In the meantime, he is busy making all his own bases, pestos and sauces by hand and sourcing the best organic produce to make some pretty darned good pizzas. Round off the night with Hull's New York cheesecake or old-fashion banana splits. Gorgeous, 327 Dominion Rd, Mt Eden, ph (09) 630 3378.
Keeping up with the Jones

It's all change at Jones The Grocer, with new owners Alex and Ana Mon. This dynamic Argentinian couple have pushed back the shelves and created more space for the cafe tables. Which is just as well, as they've extended the breakfast and lunch menus. The cabinet food has also had the Mon-magic touch with a wonderful selection of fresh meat cuts, interesting breads and condiments so you can create your own sandwiches.
There's also a selection of delicious sweat treats including the oh-so-divine Argentinian biscuits Alfajores - perfect with a coffee. Jones the Grocer is part of a franchise that originated in Sydney and now has stores across Australia, Dubai, Singapore and there are plans to open one in London later this year.
The majority of the stock in the Newmarket store is part of the Jones brand - think gourmet teas, chocolates, herbs, sauces, etc - along with a host of cheese, Neat Meat products, herbs, spices, juices and more. Ana, a former interior designer, is introducing gorgeous homewares to the store. Definitely worth a revisit if you haven't been for a while. Jones The Grocer, 1/143 Carlton Gore Rd, Newmarket, ph (09) 522 9161.
Let them eat bread
Wild Wheat's second Shore store has finally opened on Hurstmere Rd, Takapuna, in what is rapidly becoming a foodie strip, down from Dida's. Further up the road, it's looking like a bombsite, with the R'Toto bar being redeveloped and around the corner in Anzac Ave, Marvel Grill has newly opened under the cinema.
Dig in
Now here is a clever idea: a porridge which is more like a muesli. Delish Gourmet Complete Blend Porridge is a hearty mix of not just oats but dates, sultanas, apricots, nuts, coconuts and spices. It even has chai seeds, which are considered the latest super-food. Mix it all up with hot milk and fresh fruit if you desire, and this has to be the healthiest - and scrummiest - breakfast on the block. $9.99 from Farro the Fresh Food Market, 80 Lunn Ave, Mt Wellington, ph (09) 570 7071 or farrofresh.co.nz.
Grow your own
As the rain pours down outside, the idea of getting out your spade and digging up the garden is far from appealing. Instead, take the time to study this lovely book - Grow Your Own Herbs In Pots (Cico: $44.99) - and start planning innovative new ways to bring your garden to life in the growing season. Herbs grow extremely well in containers, and author Deborah Schneebeli-Morrell, who grows all her plants organically, gives 35 different ideas on how to plant them - from old olive tins to terracotta pots. She also shares advice on buying seeds, planting, growing and harvesting healthy plants. The beautiful photography and helpful tips will have you rushing out to buy seeds (which will germinate nicely on a sunny windowsill, ready to plant come spring.)