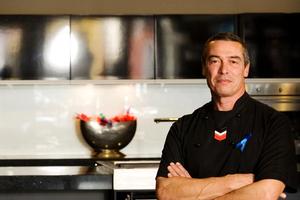 A funny thing has happened to rock 'n' roll in the last two decades: it's gone healthy. Don't panic - the sex, drugs and rock 'n' roll lifestyle hasn't disappeared, it's just been modified to include wheatgrass shots and super-food smoothies the morning after. Actors, musicians and party people are now some of the biggest health obsessives around.
One man knows the inside story on this health revolution better than anybody: Peter Chaplin. A seemingly-paradoxical punk rocker and fitness buff in his youth, British-born and New Zealand-raised Chaplin trained as a chef in the trail-blazing Melba Restaurant in Auckland in the late 70s. He was then whisked off on a 13-month world tour with the Thompson Twins, who had been desperately searching for a vegetarian chef.
Back in the mid-80s the idea of fresh, healthy vegetarian cooking in an industry usually associated with Jack Daniels and the occasional burger was truly radical. Chaplin's reputation for doing the impossible - cooking world-class, vegetarian food in tour buses, tents and corridors - spread rapidly, and in 1987 Chrissie Hynde, a militant vegetarian, booked him for a Pretenders' tour for another 12 months.
Next on his CV was Madonna, who has since called him "the best chef in rock 'n' roll".
"All my life I've had to put up with people taking the piss out of what I do," grins Chaplin.
"Some people can't get their head around the idea that rock stars might want to be healthy. Which is stupid, because if you want to look good, perform well and party afterwards, you need to look after yourself."
He tells me about Madonna's daily schedule on the Who's That Girl? tour of 1987: a two-hour gym session, a one-hour run, and a two-hour show four times a week.
"Maintaining nutrition levels to make sure her body had enough fuel to run on with a purely vegetarian diet was a real challenge," he admits.
Today, Chaplin's twin passions of music and food remain at the centre of what he does. It's a buzzy Friday evening at his latest venture, the Rock Cafe, and what with the hip diners, Iggy Pop blaring, and dishes like Polenta Squid on the menu, it's disorienting to realise that we're in Mt Roskill, not Ponsonby. But Chaplin has been there and done that.
Two decades ago, having had enough of the touring lifestyle, he opened cult vegetarian restaurant Musical Knives, first in Melbourne and then, in 1992 on Ponsonby Rd. It was here he developed what he calls his "Clean Cuisine" philosophy; an emphasis on organic, locally sourced and largely vegetarian dishes.
The Rock Cafe is proving a similar hit, with a party crowd who want their hedonism not to hurt in the morning: organic beers and wines are in full flow and bowlfuls of organic miso are deliciously guilt-free. And the Rock Cafe's themed live band nights have already earned a cult following.
"I've got loads of musician mates, and we hit on the idea of doing a themed supper club event with a live band. We're selling out weeks in advance."
So far, Jimi Hendrix, Johnny Cash and Van Morrison have all received the Rock Cafe treatment, and The Beatles and the Rolling Stones are chalked up for coming months.
"My aim as a chef has always been to provide a complete sensory experience for diners, stunning them with the appearance, then the smell, then the taste of a dish. Being able to provide an amazing soundtrack is the cherry on top," he says.
One thing is clear: Chaplin's passion for good food - and his conviction that "healthy" shouldn't mean "boring" - is still as alive today as it was when he was up at 3am, making sure the last person on the tour bus had been fed.
ROCK CAFE PRAWNS WITH COCONUT NOODLES
24 prawn cutlets - 6 per person
4 tsp extra virgin olive oil
1 tsp cumin seeds
tsp yellow mustard seeds
tsp brown mustard seeds
1 tsp lemongrass - finely sliced
1 large onion - sliced
1 tsp ginger - finely chopped
1 tsp garlic - finely chopped
1 tsp green curry paste
2 fresh lime leaves (optional)
2 fresh medium to hot chillies (optional)
250g fresh udon noodles
1/4 red cabbage cut into chunky squares
1 medium courgette sliced into rounds
2 cups coconut cream
1 Tbs brown sugar
1-2 cups fish stock
1 bunch fresh coriander roughly chopped
flaky sea salt
* Vegetarian option - replace prawns with 1 blocks firm tofu, cubed.
1. Fill a suitable sized pot with water, bring to the boil, turn down heat and leave to simmer gently.
2. Place a large wok on medium heat, heat olive oil, add cumin and mustard seeds, lemongrass, onion, ginger, garlic and curry paste. Add lime leaves and chilli if desired.
3. Cook for 5 minutes, tossing ingredients continually. Add red cabbage, courgette, coconut cream and sugar, 1 cup of chicken stock and coriander. Add the prawns (or tofu). Cook for a further 3 minutes.
4. Meanwhile, drop noodles into the boiling water, boil for 2 minutes. Drain noodles and add to ingredients already simmering in the wok. Season with flaky sea salt. If sauce is too thick, add a little more stock. Noodles should be completely immersed in sauce. If using the curry and lime leaves, remove from the dish before serving. Serve from a large noodle bowl.
* Peter Chaplin's Rock Cafe is at 8 Carr Rd, Mt Roskill, ph (09) 624 5955, rockcafe.co.nz.
Win a voucher, valued at $150, for you and a friend to attend one of Peter Chaplin's Monday night cooking classes. To enter, write your name address and phone number on the back of an envelope and send it to Rock Cafe Cooking School Competition, Viva, NZ Herald, PO Box 3290, Auckland. Entries close June 30, winner announced July 7.