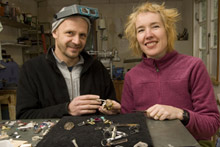 Within the contemporary jewellery scene, Lisa Walker and Karl Fritsch are something of a power couple. They've both got a string of awards and accolades to their names, and at this year's NZ Jewellery Show Fritsch's work is represented by Fingers Gallery on Kitchener St and Walker's by Masterworks in Ponsonby.
"People often ask us if it's disastrous, working in the same industry as your wife," says Fritsch.
"But we're more aware of the positives. It's great that we understand what's challenging or what's exciting each other. We don't have to be constantly explaining ourselves. And we both derive a lot of inspiration from each other."
"Although it wasn't always this easy,"adds Walker.
"When we first met we were quite precious about influencing each other and nervous about losing our identity. I suppose this was the insecurity of the young artist. These days we're much more relaxed about it."
Looking at their work, it's obvious that they share certain ideals: uninhibited experimentation, innovative use of materials, and a tension between the beautiful and the shocking.
But there's no risk of it being matchy-matchy: In Fingers Gallery, Fritsch's collection of gold and oxidised silver gothic rings, which look simultaneously modern and as if they've been pulled off the fingers of a mummified corpse, are displayed next to a pendant of Walker's, made from a cluster of brightly painted greenlip mussel shells. It's all inviting stuff, and it makes you want to wear it, go to a party and wait for the reactions to start pouring in.
As Fritsch puts it, "I love that moment of recognition when something that comes across as cute and pretty has, on second glimpse, an almost obscene grotesqueness."
The couple met in 1995, when Wellington-born Walker won a scholarship to take a postgraduate course at Munich Academy of Fine Arts.
"It was a brilliant time and place to be an artist," says Walker.
"In Germany, people take you seriously when you say you're an artist. I used to feel that in New Zealand, when you said 'artist', people heard 'loser'. Luckily, a lot has changed since then."
The couple lived all over Munich, the most memorable being a former army barracks that had became a sort of artists co-operative. However, last December, the couple made the decision to move themselves, their two children, Max and Mia, and their workshops to Island Bay, Wellington.
"It's not a bad exchange," says Walker. "We swapped a fourth-floor apartment with a view of the Mercedes Tower for a 1930s kauri villa. Although we're going to have to do something about the original 1970s brown wallpaper."
Fritsch's workshop is in the house, while Walker drives to her workshop in Newtown every day.
"I love the house, the sea view and the sound of the wind. The winters are so full-on," says Fritsch.
"Of course, in Germany we've got more extreme seasons, but city living insulates you from it. Here, you're confronted with the elements at all times."
Surely such a dramatic move has to influence their art?
"I've already been infected with the Kiwi have-a-go attitude to making things," says Fritsch.
"In Germany, we consider certain tasks off-limits except to professionals, but here in New Zealand there's a much more practical and brave attitude to DIY, whether it's building a shed, fixing the car or designing a house. I love this attitude, and can see the influence in my latest work, where I've used screws to fasten sapphires into rings, combining the rough and readiness of DIY with precious materials."
The Kiwi stamp on Walker's work is taking an altogether different shape.
"As someone who works mostly with 'found objects' - everything from dirty dishcloths to toy soldiers - Trade Me has been a great discovery," says Walker.
"It's a goldmine of quirky, unusual vintage items, often a lot more eccentric than what I found in Europe."
The couple admit that they had some concerns about the move.
"For years I worried that leaving Germany would be the end of my career as I knew it," says Walker. "But the internet is an amazing thing, and all my European and American projects are continuing. The world really is a small place today, and you can live where you want to."
Did Fritsch feel the culture shock more acutely?
"Not really," he smiles. "The local butcher does great German-style bratwurst, and the supermarket stocks German beer."
Germany might be the world capital when it comes to contemporary jewellery, but New Zealand is very much on the map.
"There's a strong pride and a lot of public awareness of our contemporary jewellery heritage, thanks largely to galleries like Fingers and Masterworks," says Walker.
Alan Preston was one of the founders of Fingers Gallery in 1974, and his stunning goldlip oyster shell breastplates are currently on display.
"We started Fingers because at that time jewellery was usually displayed in a grubby glass cabinet behind the cash register in a ceramics shop," he says.
Fingers Gallery is one of the oldest contemporary jewellery galleries in the world, just three years younger than the Electrum Gallery in London's Mayfair.
For those of us still struggling with what "contemporary jewellery" means, Preston's the man to ask.
"Contemporary jewellery is more aligned to the visual arts, and it explores contemporary issues and concepts," he explains.
"It's got a message; it's not just a piece that looks nice."
Although most of what you find in Fingers Gallery does indeed look nice: Anna Ward's necklaces made from painted false nails and her fan-shaped earrings made from pin wheels, are beautiful in a very conventional sense, but distinctly provocative.
It's certainly a good time to be a necklace with a message. Statement jewellery looms large on fashion's radar, with everyone from Marni to Vuitton and Lanvin to Gucci showing stunning neckpieces and cocktail rings.
"I think people are realising that you can express yourself more effectively with a unique pendant than with a designer outfit," says Preston.
"Jewellery is a moveable feast; art that you carry around with you and show to the world."
And does he wear jewellery himself?
"I try never to leave the house without a brooch," he smiles.
"My current favourite is by a Melbourne designer called Roseanne Bartley, a beautifully crafted brooch made out of beer can ring-pulls."
There's also the investment factor: conventional wisdom has it that in an economic lull, sex and jewellery are two industries that remain recession-proof.
Grant Stevenson, who organises the annual New Zealand Jewellery Show, isn't worried about running a luxury market event in the middle of a recession.
"We're busier than ever. After all, a piece of contemporary jewellery isn't just a fashion statement. It's a work of art you can pass on to your grandchildren."
Stevenson organised the first show in 2006, after discovering that "jewellery was one of the only art forms that didn't have a forum in New Zealand".
With more than 100 New Zealand jewellery designers showing their wares, made from everything from gold and rubies to rubber bands and carpet fluff, it promises to be a visual feast. And there's something really special about knowing the story behind that amazing pair of earrings.
"The show is a chance for people to come along and meet the designer and learn about the message behind the piece you've fallen in love with," says Stevenson.
"It's also fundamentally about nurturing home-grown talent. Buying a necklace made in Howick should have a much greater feel-good factor than one made in Hanoi."
Contemporary jewellery is all about transmitting a message, and wearing an item locally made makes a further comment about who you are and where you come from.
"At a jewellery show in Munich I was trying to track down a fellow Kiwi artist," says Walker.
"I saw a woman wearing a fabulous pair of paua earrings, and I knew I could walk up to her and start a conversation."
* The 2010 New Zealand Jewellery Show is at Skycity Auckland from Friday 2nd to Sunday 4th July. For more information, see jewelleryshow.co.nz.
On the web:
By Anna Hart