Herald on Sunday rating: * * * * *
Address: 365 Dominion Rd
Phone: (09) 623 3140
Website: merediths.co.nz
Open: Dinner: Tuesday to Saturday; lunch, only by arrangement, Thursday and Friday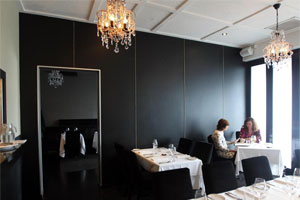 Interviewed on Kim Hill's Saturday morning show on Radio NZ National last Saturday, the maverick foodie Anthony Bourdain dissed Alice Waters of Chez Panisse fame as a hypocrite before moving on to a chef he really likes: David Chang, a Manhattan-based Korean-American who, says Bourdain, "cooks his heart out making crazy stoner food that chefs would like to eat after work".
Of Chang's six restaurants, Bourdain singled out Momofuku Ko in First Ave, any of whose 12 seats - at a bar; there are no tables - are surrealistically hard to get (the reservations FAQ is longer than this column).
Bourdain calls the food "an international mashup, not fusion at all" and loves the way the chefs dress down and cook to a soundtrack of the Sex Pistols.
There's something supremely irritating about New York's passion for super-cool zeitgeist trends, I know, but - especially given that Time magazine named Chang one of the year's 100 most-influential people - I can't help wondering whether we are overdue for a change in the nature of top-level dining.
So-called fusion cuisine always seemed to me something old and obvious being dressed up as something new and adventurous, molecular gastronomy is an obscure joke and I am completely over foam. Give me something to eat, I say.
I rather suspect Michael Meredith would endorse that view. His eponymous eatery in an unfashionable part - is there a fashionable part? - of Dominion Rd is no foam-and-fusion joint. For all its artistry - and there's plenty of that - his is actually no-nonsense tucker.
It passes the acid test that Michael Pollan set in his excellent book The Omnivore's Dilemma: never eat anything your grandmother wouldn't recognise as food.
Merediths, which will celebrate its third anniversary in the spring, remains one of the hottest tables in town: Friday and Saturday nights are booked up a couple of months in advance. On those nights there is no a la carte dining. You take what Michael is cooking in a seven-course degustation menu that is - let's be honest about it - not designed with vegetarians in mind.
When you order a degustation menu you are accepting that the chef will call the shots. It takes the stress out of deciding, it must be said, and certainly at Merediths you're in safe hands.
Interestingly, with the exception of the Valrhona chocolate mousse on a seriously chocoholic dessert platter, there was nothing on the menu last Saturday that I'd met when I last ate there two years ago. Chef is plainly not resting on his laurels.
A few highlights from the meal - in which each dish was slightly larger and more intense than the last - must suffice: a playful riff on pea and ham soup had a few shreds of delicately lean hock and bright-green pea raviolo doused, tableside, in a rich bouillon; the duck duo (thin slices of smoked meat and a criminally creamy liver parfait) came with figs and baby beets; the pork belly replaced apple sauce with paper-thin, dry-baked crisps of apple; the salmon's Japanese notes included miso and mirin, but a distinctly beefy white horseradish perfectly offset the oiliness.
You get the idea, but you won't understand until you try, which I sincerely suggest you do, soon. There's no punk rock and the tables are white linen. And even with the eight-week wait, it's easier to book than Momofuku Ko.
Ambience: Restrained and elegant.
Vegetarians: Try the a la carte menu (Tuesday to Thursday).
Watch out for: The locked street door. Ring and wait.
Bottom line: Still cooking.
THE BILL
$444 for three
Degustation: $110 a person
Matched wine (for one): $70
Wine(2 glasses) : $33
Water: $11