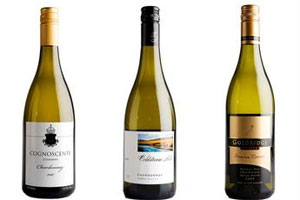 I've just sampled several hundred chardonnays at this year's International Chardonnay Challenge (ICC) in Gisborne, followed by a further day immersed in it at the region's Chardonnay Forum. But instead of crying "Anything But Chardonnay" (ABC), the slogan of those bored by the variety, I'm entreating wine drinkers to Appreciate Beautiful Chardonnays!
Despite its noble heritage with hundreds of years as the white star of Burgundy, and as a variety responsible for some of the world's most exciting and age-worthy white wines, this unfortunate grape has been given a rough time in recent years.
There was the era of ultra oaky buttery brutes that increasingly went out of fashion as tastes moved to fresher fruitier styles of wine.
Then there was its massive move into the mainstream. As litres of inoffensive if somewhat uninspiring chardy swished around the supermarket shelves, it was accused by the ABC brigade of being oh-so-common and lacking character.
It's true that at the bottom end of the market there's still plenty of monotonous, if perfectly well-made stuff. But if you set your sights a bit higher, you'll see that there's been something of a chardonnay revolution of late with styles brought back into synch with current tastes and winemakers both here and abroad creating arguably some of the best chardonnay we've ever witnessed.
"Chardonnay is like blank canvas on to which winemakers have the ability to stamp their own personality," explains Paul Atwood, the winemaker behind the consistently classy Leeuwin Estate Art Series chardonnay from Australia's Margaret River and a judge at this year's ICC. "Most winemakers have large egos, hence you've had big, super-oaky wines!" he quips.
"But the change in style of chardonnay has been quite remarkable in the last few years. Those big, woody chardonnays are disappearing... and we're starting to see wines that are showing more elegance and where they're from, like those of Burgundy."
Countering those who still consider chardonnay dull, another Aussie winemaker judging at the Challenge, Coldstream Hill's Andrew Fleming, is on a mission "to restore the maligned reputation" of what he regards as the world's greatest white grape variety.
"Chardonnay is not just a one dimensional wine," he stresses. "They've got real interest and pedigree, complexity and are made in different styles from different regions."
Across the ditch, despite it being Australia's most widely planted white variety, recent years have seen it usurped by sauvignon as the Australian wine drinker's variety of choice.
Here in New Zealand, our once-favoured chardonnay was superseded in sales by sauvignon some years back and now makes up a far smaller percentage of our vineyards than in the past.
However, as Fleming points out, we have the advantage of our homegrown exports not having had anything like the bad press dealt out to his country's examples.
Elsewhere chardonnay's fortunes have not proved so fickle. "Chardonnay hasn't gone out of favour," claims David Cox, European Director of New Zealand Winegrowers, citing a recent major survey, which found that it was still the most popular wine, with 75 per cent of the consumers questioned drinking it.
In the United States they're still lapping it up too: it's the country's most popular variety and rising.
So if you've joined the ABC crew and written off chardonnay, I challenge you to give it another chance. Here are some winners from the ICC for starters.
Prize drops
TOP OF THE CLASS
Cognoscenti Gisborne Chardonnay 2009 $25
One surprise win was the ICC's Top Regional Chardonnay North Island Trophy being awarded to this impressive wine made at Gisborne's Tairawhiti Polytechnic, a rich creamy textured example with notes of toasted nuts and a fresh line of citrus. "It's pretty huge for any small winery to get such an accolade," says winemaking and viticulture tutor James Hillard. (Available in wine stores from July 1.)
STRIKING GOLD
Coldstream Hills Yarra Valley Chardonnay, Australia 2008 $29
Xanadu Reserve Margaret River Chardonnay 2009 was crowned champion of the ICC show. It won't be in the country for a while, but another of the show's top wines soon to hit the shops is the Coldstream Hills, a taut and elegant chardonnay with notes of white peach, zesty grapefruit, and minerals with subtle undertones of sandalwood. (Shortly available from fine wine stores.)
ACCESSIBLE AWARD WINNER
Goldridge Estate Premium Hawkes Bay Reserve Chardonnay 2009 $18.95
An attractive ripe easy drinking style with fleshy peach fruit, tangy citrus and hints of butterscotch, this featured in the ICC's "Recommended top six selection" of easily available wines. (From Countdown, Woolworths, Foodtown, New World.)