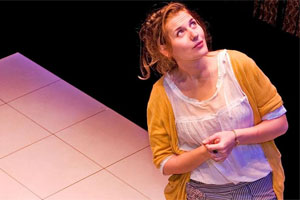 Cyan Corwine's career has been as colourful and eclectic as the costumes she designs. Originally from New York State, she has spent most of her life living and working in the Big Apple until recently finding herself a second home in New Zealand.
Though her career has been broad and eclectic, she has spent a great deal of it designing and creating costumes for the stage; from modern dance, Sartre, and puppets to Moliere, Shakespeare and Euripides.
She has built promotional furry pants for Cirque du Soleil, and worked with costume shops and theatres in New York City including the Juilliard School, the Pearl Theatre Company, and Rodney Gordon.
Life and love has had her travelling back and forth between New Zealand and New York for six years, though this is her first time living in Auckland. She is currently working on new Tapac production The House of Bernarda Alba.
"I'm absolutely thrilled to find my creative footing in this new city," she enthuses.
Who are your favourite designers?
Alexander McQueen for his brilliant designs and desire to make all women feel empowered through his clothing, and Julie Taymor who is a brilliant costume designer.
What do you wear when you're performing?
Something comfortable and colourful. I consider most of my wardrobe "play clothes". Working in wardrobe and having recently spent a year touring the US as a puppeteer and puppet creator, I found myself wearing too much black clothing so I avoid black whenever I can.
What are you currently wearing?
A well-loved pair of leggings, knee-high socks, and an oversized sweatshirt.
What was the last item of clothing you bought?
It was really a gift from my fiance; a wonderful grey and white linen pants suit from World, which will be much adored for the rest of my life.
Who or what inspires you satorially?
Life ... all of it. With costume designing, if it is a play or dance piece, one is given a frame to construct within. I begin with the text or music and an initial read, then I start to break down the characters. This usually provides me with an initial impression or instinct and I will often do preliminary sketches working out what feels right for me. Then it becomes collaborative as I let in the director, performers, and fellow designers which occasionally results in a complete revamp of my initial interpretation.
How would you describe your style?
Eclectic, comfortable and colourful.
What would you never wear?
I can't see why I should ever need to put on lederhosen.
Describe the best outfit you've ever worn.
In high school I made a lovely dress out of basmati rice bags. It was burlap, a little bit itchy, and I wore it with pride to my graduation.
Who is your ultimate style icon?
My baby sister Isabella - she's 10 and still has that unrestrained, whimsical fashion sense.
Whose wardrobe would you most like to raid?
My little sister Lyla's, because she is far more stylish than me and it might be fun to be a size 6 again.
Who does the best shoes?
Minnie Cooper has some great shoe designs.
What's the biggest fashion mistake you've ever made?
As a teenager I owned a plethora of polyester pantsuits - in all the brilliant and beautiful shades that the synthetic world had on offer. The winner of my collection was a hot pink and white swirled-print poly pant with matching suit jacket worn two sizes too big.
Your favourite shop?
If there are vintage items, fabric and arts supplies, or antique furniture and jewellery on offer, my imagination and wallet will be well engaged.
What's your best beauty tip?
Be a genuine and kind person and your beauty will shine through.
Favourite fashion-y moment in film?
The whole of Labyrinth, but I particularly like the scene when Sarah (Jennifer Connelly) falls onto the Junk Lady who is decked out in all sorts of things.
How do you define the word "fashionable"?
If one is fashionable they can dress themselves on a daily basis and feel comfortable and confident in their choices, while adding their personal flair and exercising restraint when needed.
Most underrated item in fashion?
A toss-up between woolly socks and cardigans.
* The House of Bernarda Alba is on until Sunday June 20 at Tapac. To book, ph (09) 845 0295.