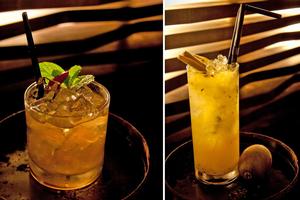 A slice of drinking history could be found in New Zealand recently with a visit by Kentucky bourbon king Jim Beam's great-grandson, Fred Booker Noe III. His whistle-stop tour included Auckland, Wellington and Christchurch, where he hosted exclusive tastings of Beam's premium bourbon whiskey range, including Maker's Mark, Baker's, Jim Beam Small Batch and, of course, Booker's, created by Fred's father, Fred Booker Noe II.
But Jim Beam Black also got a piece of the action.
To mark the visit, fledging bartenders from Auckland's Professional Restaurant & Bar School were invited to create a unique Kiwi spin on classic Kentucky cocktail, the mint julep, with the top three presented to Booker Noe for tasting.
Booker Noe and Jim Beam global ambassador, Ben Stuart, were looking for skilled mixology, outstanding creativity and a drink that truly represented the combined quality of Jim Beam bourbon with New Zealand flavours.
The winner was Patrick Prendergast, with Jimmy's Ice Tea, shaken on the rocks with manuka honey, lemon juice and L&P, while runners-up Aaron Chamberlain presented the Ruapehu, stirred on the rocks with Kerikeri manuka mint organic tea, honey and Kaitaia Fire pepper; and Donovan McMaster presented the Bourbon Bonanza, muddled with manuka honey, golden kiwifruit and Phoenix ginger beer.
Jimmy's Ice Tea
by Patrick Prendergast
Glass: Highball
Method: Shaken
Ingredients: 30ml Jim Beam Black, dash manuka honey, 15ml lemon juice, top up with L&P
Garnish: Lemon slice
Mixing: Combine the lemon juice and Jim Beam Black with the honey.
Shake well and pour into a rocks glass over ice. Top up with L&P, then garnish with a lemon slice and two straws.
Ruapehu
by Aaron Chamberlain
Glass: Rocks
Method: Stirred
Ingredients: 30ml Jim Beam Black, 30ml Kerikeri manuka mint organic tea, 3 bar spoons of honey (or to taste), 3-4 drops Kaitaia Fire pepper sauce
Garnish: Mint and chilli peppers
Mixing: Make the manuka mint tea in advance and chill. Measure into a mixing glass the Jim Beam Black, tea and Kaitaia Fire. Stir and pour into a rocks glass. Garnish with chilli peppers, mint and two straws.
Bourbon Bonanza
by Donovan McMaster
Glass: Highball
Method: Muddled
Ingredients: 30ml Jim Beam Black, 1 bar spoon of manuka honey, 4 wedges golden kiwifruit, top up with Phoenix ginger beer
Garnish: Sliced kiwifruit
Mixing: Line glass with manuka honey and muddle kiwifruit wedges in the glass. Fill glass with ice, then pour Jim Beam Black. Top up with ginger beer, then stir. Garnish with two to three slices of kiwifruit and two straws.