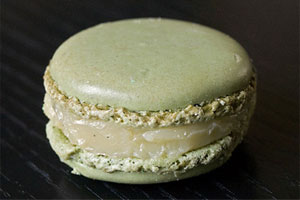 Few creative geniuses are reluctant to take a bow with their product, be it a couture collection, an art exhibition or a piece of theatre. Patisserie chef extraordinaire Pierre Herme, however, will not pose with a tray of freshly piped "macarons", the pretty confectionery which has made his name as one of the world's most sought-after bakers.
Herme is to macarons what Heston Blumenthal was to porridge and ice-cream with his snail and egg and bacon variations. When it comes to pushing boundaries in patisserie, Herme is equally daring.
French macarons are exquisite: two light, glossy almond shells sandwiched with a rich flavoured cream.
Herme has become famous (the French can laud a pastry chef as ardently as poets and philosophers; he was on Chirac's honours list) for injecting va-va voom into the traditional macaron.
In his hands, which bear 34 years of experience on top of a heritage of four generations of Alsace bakers, the classic chocolate, coffee, strawberry and vanilla macarons have become rose, lemon, pistachio, and jasmine.
Then there are combinations such as peach, apricot and saffron, and wasabi and strawberry, a newcomer for 2010. Mogador, a blend of passionfruit and milk chocolate, and Isaphan, lychee, rose and raspberry, are now signatures that run through Herme's pastries, cakes and chocolates.
But can he be persuaded into a smile while whisking deep green pistachio paste into buttercream for his magnificent Montebello cake, a time-consuming construction of pistachio dacquoise, a complicated mousseline cream and fresh strawberries? Absolutely not.
Will he beam into the lens as he shows me how to pipe perfect rounds of vanilla macaroon biscuit onto a baking sheet? No chance. He wouldn't even demonstrate his baking skills for Masterchef, who visited recently.
Herme is not coy about the goodies in his 13 eponymous bakeries, six in his home city of Paris and four in Tokyo. Nor is he camera shy. But he is committed to authenticity. Herme, you see, is the vision behind the wonders that grace his shelves, but he hung up his apron long ago.
Nowadays he dedicates himself to new recipes, with every season and bespoke orders calling for the most innovative and often outlandish baked confections.
A queue snaked out of the door of Herme's original Parisian shop on Rue Bonaparte at 5pm on a Friday afternoon. At the weekend you might queue for an hour.
Unlike most chefs, Herme's office is not a kitchen but a basic room over the shop. We might be conducting a board meeting were it not for the two plates on the table.
One displays 14 pieces of chocolate: two milk, the rest dark, all glisteningly smooth. The other bears 10 different macarons: jasmine; peach, apricot and saffron; olive oil and vanilla; apricot and pistachio; cinnamon, pistachio and cherry; passionfruit and milk chocolate; salted caramel; milk chocolate; dark chocolate and rose.
The jasmine is flavoured with both flowers and jasmine tea. The rose recipe was developed to actually taste of rose rather a cosmetic fragrance. The dark chocolate is studded with tiny morsels of chocolate-covered salt. The cinnamon, pistachio and cherry (probably my favourite though they are all so fantastic it is hard not to be fickle) has whole cherries hand-placed into each one.
Early in his career, explains Herme, he didn't even like macarons.
"I didn't think there was enough paste inside them. I started to make them with more filling, then began trying out combinations like the passionfruit and chocolate and caramel and chocolate, and then began to work on different textures, such as this one, apricot with crispy pistachio."
Later came the left-field variants such as foie gras, ketchup and wasabi. A balsamic creation made with 20-year-old vinegar was sold for €8 a piece (you'll pay - brace yourself - around £1.70 (NZ$3.70) for regular flavours). He is looking forward to the launch later this year of creme brulee and a liquorice and violet concoction ready for the UK opening.
With the expansion, though, might it be possible macarons are moving from a fashion moment into overexposure? Herme opened his first shop in Tokyo in 1998 and the Rue Bonaparte shop followed in 2001. It shares an address with a number of Paris's best art and antique dealers, along with Louis Vuitton and Laduree, a rival 150-year-old patisserie which claims ownership of sandwiched macarons and has a shop in London and a dedicated tea room in Harrods. La Maison du Chocolat's new summer collection is a classy nod towards Herme favourites. Lower down the food chain are the macaroons at Paul bakeries and a Raymond Blanc collection for Waitrose. Starbucks flog them in the US. McDonald's sells McAroons in Paris. They even appear in Sex and the City 2.
But Herme can't stand food trends.
"For me when something is in fashion, it's over. But with the macarons it is interesting and it is different, because I created this."
And his creations are sublime. Light, airy biscuits with a slight chew to them with a generous filling that is rich but not heavy. The olive oil and vanilla, for example, has an unctuous quality but is not greasy. The salt in the dark chocolate macaroon tempers the intensity of the cocoa.
Herme pulls out a black zipped folder to reveal why all the usual work tools appear to be missing from his office. Inside are his sketches for the latest and upcoming recipes. This year alone, he says, he will create around 60 new products for the shop, without counting special commissions.
The line drawings and notes look like a fashion designer's musings.
Sometimes he comes up with a recipe in his head which is spot-on, others have to be finessed in many trials.
"Sometimes," he says, "I have to admit we cannot go through with the idea, because I cannot find the solution. If it's just fine but not good, I won't make it."
I am astounded to report that the vanilla macarons I whip up with Anna, one of Herme's principal chefs for testing new recipes, are really quite good. The shells lack the uniformity of anything fit for sale in the shop, but they don't look half bad and they taste damn near spectacular - due in large part to Anna, I hasten to add. They are simple enough to convince me that making macaroons at home is worth the effort for amateurs.
We also make a Montebello cake, but be warned: though the light almond and pistachio dacquoise sponge base is not overly tricky, preparing the mousseline cream, a mix of pastry cream and buttercream, individually made, is best left to the professionals. The same goes for the chocolates.
"Anyone who tells you they make their chocolate fresh every day is a liar," says Herme.
His are made weekly and keep for a month, using mainly Valrhona chocolate and often a special blend created for him.
The best use sharp, zesty fruits to counterpoint this high-quality dark chocolate - Azur blends yuzu, an Asian citrus fruit, with lime and chocolate ganache; in Satine you'll find passionfruit and orange. Ambre, made with 10-year-old Laphroaig, requires one bottle of whisky for 200 pieces.
In development is a chocolate made with salted and smoked butter and Herme lets me taste a prototype.
The smokiness stands out, leaving a trail of smouldering butter and chocolate. But it doesn't blend so well with the salty bit. It is the first time I have tasted anything made by him which hasn't been 100 per cent.
But I keep schtum, hoping this is one more avant-garde recipe he finds the solution to and gets onto his shelves.
5 PLACES TO FIND MACARONS IN NZ
* Dizengoff is the only Auckland outlet of J'aime les Macarons, 256 Ponsonby Rd, Ponsonby, ph (09) 360 0108.

* La Cigale at 69 St Georges Bay Rd, Parnell, ph (09) 366 9361

* The Store at the Cafe on Kohi, 2/237 Tamaki Dr, Kohimarama, ph (09) 528 8335.

* The Pyrenees Delis situated at 756 New North Rd (cnr of Alberton Ave), Mt Albert, ph (09) 846 8561, 371 Remuera Rd, Remuera, ph (09) 520 2900 or 87A Vauxhall Rd, Cheltenham, ph (09) 445 0021.

* J'aime les Macarons in Christchurch will deliver, ph (03) 355 0597.
- INDEPENDENT