Address: 59 O'Shannessy St
Phone: (09) 298 6174
Cuisine: Thai
Rating: 6/10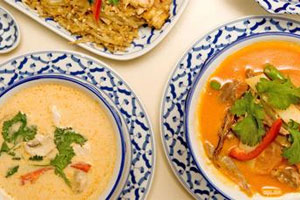 We're spoilt for choice when it comes to Thai food in Auckland. You only have to flick through the Yellow Pages to discover that most of our neighbourhoods sport at least a couple of Thai takeaways.
Even with all this choice, I'm always on the hunt for the perfect Thai meal and finding one that stands out from the crowd is not easy. So, when my local bricklayer began talking up his favourite Thai restaurant, in business since 1997, I demanded he down tools and take me there immediately.
When we pulled up outside Tipparost in Papakura I suspected the reason why my bricklaying friend was attracted to it in the first place was its heavily bricked exterior - apparently a left-over from the days when it was a steakhouse. The interior features more remnants of its steakhouse days (booths and glass lampshades) but the elephant wall hangings add an authentic Thai touch.
The menu was extensive and the dishes were numbered, saving us from making idiots of ourselves trying to pronounce their Thai names correctly. The chilly weather compelled me to order a soup, Tom Kha Gai, while the bricklayer decided on the mixed entree.
Both arrived in record time.
My soup was fragrant with the steaming aromas of lemongrass and lime wafting up to meet me. The flavours were authentic with the sweet taste of coconut hitting my tastebuds first, followed by the citrusy ginger flavour of galangal.
It did lack some heat, chilli-wise, but that could be forgiven at this stage. The mixed entree looked a little over-fried from where I was sitting and sure enough, when I tasted one of the moneybags the filling was not quite hot enough while the crispy outer shell was overcooked.
The bricklayer stole my first choice for a main, Gaeng Phed Ped Yang, or roasted red duck cooked in red curry paste, so I decided to keep it simple and go for Tod Kra Tiem Prik Thai - a much more interesting way of saying "stir fried mixed vegetables with garlic, pepper and coriander".
I had the choice of ordering this dish with chicken, beef, pork or seafood. I went for beef. Lunching with a brawny tradesman will do that to a girl. The vegetables were cooked so they were still firm, the beef was tasty pieces of thinly sliced rump which had all the right flavours but lacked punch.
Sometimes being blonde and blue-eyed means you are served "toned down" Thai dishes, and this was the case with today's lunch. The dish was overly sweet, a common mistake when "westernising" Thai food, and had no heat in it whatsoever.
To their credit, when a request for chopped chillies was lodged with the staff, a small dish of birds' eye chilli arrived promptly and a sprinkling of these greatly improved the dish. Chilli in the right quantity (ie, not too much so that it's overpowering) has the effect of highlighting all of the flavours and ingredients in a dish.
The red duck was a better bet. Succulent roast duck, and plenty of it, came swimming in a spicy coconut broth with bamboo shoots and mixed vegetables. Tinged with tomato, it had the right balance of sweet, sour, chilli and salty flavours typical of authentic Thai cuisine.
The brickie was full but I figured I'd better sample a dessert and selected the most Thai-sounding - sticky rice with coconut custard topping. The glutinous rice was sweet with a hint of saltiness, and it reminded me of the mysterious street snacks I always succumb to when travelling in Thailand - they're unusual but strangely delicious.
What I like about Thai cuisine is the freshness as well as the delicate balance of flavours in each dish. For the most part Tipparost did get these nuances into the dishes we tried, but if I closed my eyes and judged this place purely on flavour I'm not sure I'd have granted it much more merit than an average foodcourt meal.
However, the staff were pleasant and the mortar and pestling I saw taking place in the kitchen was evidence that the food was freshly prepared, so if you're out that way I'd give Tipparost a try. Me? I'm still keeping my ear to ground for where to find the ultimate Thai food in Auckland.
From the menu: Tom Kha Gai $7.50, Mixed entree $8.50, Gaeng Phed Ped Yang (red duck curry) $21.50, Tod Kra Tiem Prik Thai (Stir-fried vegetables, garlic, pepper and coriander) $18.50, Sticky rice coconut pudding $7.50
Drinks: Fully licensed, BYO wine