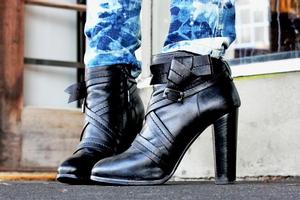 If you have a thing for shoes, check out new local blog The World at your Feat. The site is the brainchild of footwear lover Onny Kaulima, who wanted to document interesting people and the shoes that they wear - examining the idea that the shoes you wear say a lot about who you are. Each person and their footwear of choice for the day is photographed, with a little Q&A that showcases their personal style. www.theworldatyourfeat.com
Bella farewell
Colourful design store Bella Pacific is shutting up shop, but though this is sad news for fans of the five-year-old business which helped mainstream Pacific interior style, it's good news for canny customers. Between now and the end of July you can bag a bargain with Pacific quilts and cushions and Mexican decorative items among the many markdowns. Owner Viv Kernick says she will miss the community feel of her Jervois Rd store and cafe, as no doubt will its Herne Bay regulars, but a chance to live in New York is too exciting to miss. Her partner Kirsty Griffin has been accepted into a course at the International Centre for Photography and Kernick has arranged a house swap with friends in Brooklyn for 12 months.
Griffin, who has a background in film and television including work as a stills photographer on Spartacus, will study photojournalism.
As to what Kernick will get up to, she's taking clippings of her work in New Zealand, so maybe the Big Apple might be in store for a touch of Pacific style. "Who knows what the future will bring?" she says.
Bella Pacific, 288 Jervois Rd, Herne Bay. www.bellapacific.com and www.kirstygriffin.com
Shutting shop
The European Fashion Studio is closing after five years, and owner Josephine Brodie is selling off her range of imported garments in an end-of-lease sale at 15b Eden St, Newmarket. Autumn/winter designs in sizes 8-18 and exclusive to the studio, are on sale now, with a summer clearance to come.
Branching out
Sarah Priddy, known for her nail bar in Newmarket and a luxurious range of bodycare products, has expanded her beauty offering with the opening of Spacial. This one-stop-shop beauty clinic in a converted Parnell villa draws its name from a combination of Priddy's initials and the word facial, and offers customers a full range of treatments from top therapists. Among the ranges Priddy stocks is innovative American mineral makeup brand Youngblood. Spacial is at 2 Cowie St, Parnell, Ph 373 4477 or see www.spacialbeauty.com
Kate's latest role
Kate Hudson has been signed up to bring a touch of glamour to cosmetics company Almay. The Hollywood hottie is the budget brand's new spokeswoman and will front its advertising campaigns and participate in company-sponsored charity events such as for the Rainforest Foundation. Almay has recently launched its Smart Shade Anti-Ageing makeup which adjusts on application to match differing skin tones.
Jaimie's new website
Ponsonby Rd store Jaimie Boutique has joined the virtual world - with an adorable website designed in conjunction with artist Martin Poppelwell. Visit it now at www.jaimie.co.nz to find out more about the store, the Jaimie label and to read their blog, or "Jaimie Journal".
Good enough to ...
The Olive skincare range has added to its offering with a locally made massage oil. It is made from all natural plant oils including, of course, skin-conditioning olive oil grown at its estate in the Bombay Hills. Almond oil, a favourite carrier oil for massage, is also included along with avocado oil. Priced at $20.50 and available in pharmacies and department stores.
Sale season
Sale season is starting early this year, which may not be so great for retailers, but it means you can stock up on winter gear before it's too chilly to get off the couch. The sales popping up all over now are often not storewide, but are designed to drive shoppers in store, rather than be the major winter clearance which is still a month or more away. Among the good offers out there are discounts on Kingan Jones knitwear, Wallace Cotton's 50 per cent off selected fashion pieces, and 40 per cent off Kate Sylvester menswear for two weeks only.