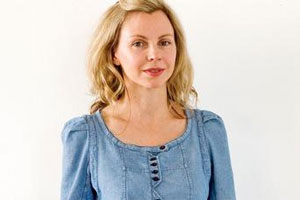 Auckland-born and raised artist Emily Wolfe now lives in London, but a selection of new works painted here and overseas will be on display in Auckland from today.
The exhibition at Anna Bibby Gallery continues Wolfe's fascination with interiors and delicate fabrics; beautiful and subtle paintings of mysterious light coming through sheer drapes, a heater sitting on a stool in front of retro-looking wallpaper - what could be considered mundane is rendered beautiful through Wolfe's eyes.
Who are your favourite designers?
To be honest I don't really have particular favourites in London - the choice is just too vast. Whenever I'm back in Auckland I do make a point of going into Workshop where I know I'll always find something I like.
What was the last item of clothing you bought?
A bra in Wellington. The embarrassing thing is that when the assistant offered to measure me I assumed I had to take everything off - I'm sure that's what happened the last time. She looked quietly mortified.
What do you want to buy next?
It depends on whatever falls apart first - probably a replacement pair of Converse shoes.
Who or what inspires you, sartorially?
Where I work, around Spitalfields and Shoreditch, is full of young, quirky types. What I like about them has to do with originality and creativity more than being fashionable. They are genuinely inspirational in the sense that their energy is infectious.
Your favourite accessory?
It's boring but I don't have accessories. I don't wear jewellery, I've given up on fancy sunglasses, and find the expensive handbag thing nauseating.
Who does the best shoes?
I don't drive, so I walk everywhere and wear trainers all the time - Converse are my staple.
Your favourite shop?
When I do have to go clothes shopping - and it's always out of necessity rather than for pleasure - it will probably be somewhere like Liberty (where I can find something quickly and then move on to more interesting departments like haberdashery or the bar). Recently, I've been experimenting with shopping online. This suits me as I don't have to spend hours wading through racks of clothes, I can try something on at home and send it back if it's a disaster. Also, there's always something exciting about big parcels arriving in the post.
How do you define the word "fashionable", what does it mean to you?
I admire natty dressers more than fashionable ones.
Whose wardrobe would you most like to raid?
I have several very well-dressed girlfriends who, from time to time have clear-outs of their highly desirable wardrobes. I am usually the lucky beneficiary.
What do you wear to work?
An all-in-one mechanic's boiler suit, two or three jumpers (depending on the season), a woolly hat and latex gloves.
Most cherished item?
Out of my own clothes I tend not to be so sentimental but my daughter has some beautiful clothes that my mother has made for her that I cherish, like a red cardigan with two white rabbits on each side from a 50s knitting pattern.
Favorite fashion-y movie, or fashion moment on screen?
The most recent would probably be the Mad Men TV series - visually very sumptuous.
Personal style quirk?
It's not a style quirk but more of a guilty secret: I've always got a pair of Ugg boots lurking around somewhere. They're an essential in a freezing studio.
How would you describe your style?
Distracted.
How would your best friend describe your style?
A bit prim, probably, but then she's never seen me in my work outfit.
Who is your ultimate fashion plate?
My mother has always been a great dresser. In the 80s she had some amazing cocktail dresses from a shop called Svelte. I wish she'd kept them.
What is your favourite decade, style-wise?
Normally I would say the 1950s, but today I just happened to look at some photos of my grandparents from the 40s. There was something austere, quite sensible, and sedate about them that suddenly made the fripperies of later decades seem shallow.
Describe the best outfit you've ever worn.
When I was 8 my mother sewed me a Wonder Woman costume out of an old pair of curtains for my birthday party. It was the most beautiful thing I'd ever worn. Somehow the party made it into the local newspaper. It was my first (and only) fashion moment.
* June 9 - July 3, Anna Bibby Gallery, 222 Jervois Rd, Herne Bay.