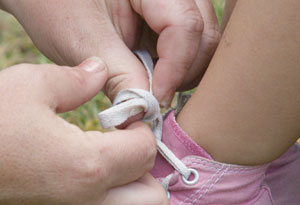 "I do it my own self" is one of Mia's favourite sayings at the moment.
Okay, so it's not the greatest English. But that is toddler gangster speak for, "Bugger off, I don't care if you're going to be late for work, or if we're going to miss the plane, or the toy library is going to close, I'm going to put my own jersey on no matter what, so get out of my face."
There are, of course, many things little ones want to do for themselves - everything from buttering their own toast to putting on a DVD.
But when they find their true independence it's a time of extremes.
At the moment, Mia can be stroppy; then crazy and cruel; but also incredibly lovely, and best of all, utterly cute. These are all emotions and behaviour that go hand in hand with finding freedom.
And while you want to nurture the chest-beating pride they must feel when they think they can do it all by themselves, you also want them to love, honour and obey you.
Mia's day care are well aware of her staunch stance on "doing it her own self". She's been famous for it ever since she was in the nursery.
That's why sometimes when I get there to pick her up she's bare foot, but with her woolly hat and jacket still on - and she'll stay that way until we get home.
However, the worst instance of defiant autonomy has to be when they insist on getting themselves out of the car seat.
You know the drill? They inevitably think it's a hoot to take off into the outer reaches of the car where you can't reach them. After racing around each door to try and catch them you give up, get inside the car, and haul them out kicking and screaming. Well, that's what happens to me anyway.
At the supermarket or at the mall it can be quite loud and explosive - and embarrassing. It's enough to make you want to find a nice quiet spot away from the kids and let rip with something that rhymes with "for lucks make".
One thing I took a long time to realise is that if you maintain a yogi-like serenity at decisive stages, like bed time, car seat time, or when you're trying to get out the door, then things generally play out better.
Yes, it's a little like walking on egg shells, but think of it more as deception because you're in charge remember. Not them.