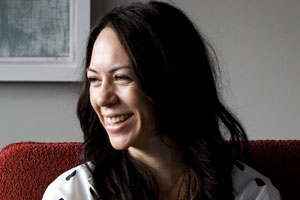 The Karangahape Rd strip is one of the most sartorially interesting places in Auckland, with restaurant Coco's Cantina attracting even more hip and fashionable patrons to the area.
Damaris Coulter is one of the sisters behind the bustling restaurant, often seen in a cute uniform of stripes and bright red lipstick.
She opened Coco's with sister Renee last year and the restaurant's fit-out reflects Coulter's penchant for vintage style - she tells us more about it.
Who are your favourite designers or labels?
I don't really follow designers or labels, probably because my style changes daily - I'm too fickle, I'm addicted to op-shopping and more likely to follow cuts, fabrics or colours that I'm into at that moment.
What was the last item of clothing you bought?
A pair of Dr Denim Jeans from Black Box Boutique, a pair of rubber riding boots from Chevalier Equestrian and a San Francisco 49ers jacket from an op shop.
Who does the best jeans?
Today, Dr Denim. In the past for me, Wrangler and Workshop - but really whichever makes my butt look the best at that time.
Where is your favourite shop?
I do a Wednesday circuit most weeks and have done for the past 10 or so years, even when I was living in Italy and London. In Auckland I like to do the Onehunga, Royal Oak and Dominion Rd circuit, and if I have a whole day I may go south to Papakura and head back through East Auckland to Howick, Panmure and Glen Innes.
Whose wardrobe would you most like to raid?
Not one person in particular but I would be grateful if I had the whole of the Gossip Girl wardrobe as my own, plus maybe Alexa Chung's, teamed with my op shop pieces.
What do you wear to work?
I usually wear flat shoes because we are running around the restaurant pretty much all night. I wear jeans, shirts, frocks, and love stripes and anything nautical.
What do you wear when you're not at work?
It depends on the day - what the weather is like and how I'm feeling. I theme dress a lot, and usually what I want to wear hits me as soon as I open my eyes.
You feel best wearing...
...what I look good in. I feel best when I'm having a good skin day, I've blow-dried my hair and I love whatever it is I'm wearing.
Favourite fashion-y movie, or fashion moment in film?
My favourite film of all time is Big Night - it's a foodie film set in the 50s where it seems every occasion is an occasion to dress up. Even the waiters are turned out immaculately. The women are busty and beautiful and the men tailored yet relaxed, and all the while it seems so effortless to look so good while working in and around restaurants.
Describe the best outfit you've ever worn
I don't think I've had it yet, however I can remember distinctive best buys. A Dior vintage leather and suede hat, Chanel vintage bag, Bally shoes, reversible woollen cape, La Dolce Vita dress... the list goes on.
What is your favourite decade, style-wise?
Probably the 1950s - I love the frocks and gowns, hair and gorgeous shoes and handbags.