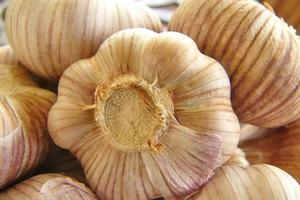 Grow your own garlic this winter. Plant it in winter and the bulb bulks up in the spring and summer. The earlier you plant, the bigger the bulbs will be by the summer.
Garlic needs a rich, free-draining soil and sun so a raised bed is good. It will also grow in a pot. After the green shoots appear in the spring, heavily mulch it to keep the weeds away, and keep the moisture in the soil. Each planted clove will produce a full bulb with between 10 to 20 cloves.
While growing, garlic deters bugs from the other plants in the garden. In spring when the aphid invasion starts, garlic shoots put them off. Peas and beans, however, don't grow so well near garlic.
Harvest it in summer when the lower leaves go brown. Don't pull the bulbs out of the ground. Dig them up gently and let them cure in a dry place for three days.
Braid them and store them over the winter, somewhere cool and dry, so you need never be without your own garlic.
New Zealand garlic is three times as strong as imported garlic. It is juicier too, as the bulbs are fresher and haven't dried out.
When you're shopping for garlic, chose the local ones. You can tell them because they have their roots trimmed by hand. If a bulb has no roots, it is imported.