Address: 137 Richmond Road
Phone: 09 378 4500
Website: covo.co.nz
Rating: 2.5/5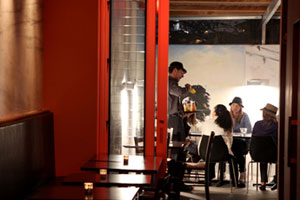 Themed restaurants are, I suspect, an acquired taste that I have failed to acquire. The gangster-style Prohibition in Ponsonby Rd appears to have found an untapped part of the market, though I thought the atmosphere cringe-making.
But other such places don't seem to last. Google "themed restaurants" and you'll find that they are big in Taiwan and (for children) in the US.
Many local hits link to places that no longer exist. I don't wonder why.
Covo, which has opened a Grey Lynn branch in the premises previously occupied by the "Indian tapas bar" M, isn't a themed restaurant.
I mention this because if you look at the website or open the menu, you will get the impression that it is and that you've stumbled into a pastiche of Godfather movies.
The existing branches of the franchise, in Fort St and Parnell, do the Mafia thing a little bit - calling a tuna focaccia Il Sorcio (the rat(!)), for example - but at Richmond Rd they have taken this silliness to an absurd extreme.
The home page is headed "The Hands of the Mob in the Mouth of Auckland" (not an image that sets me salivating) and virtually every dish gets a silly name in mangled English. So the fish of the day is "Ed Sleep with Fish", for example, and a shrimp spaghetti is called "David Soul Singer", which presumably means it's named after an actor of Norwegian descent who played an LA cop. Go figure.
This playfully menacing mafia tone seems at odds with the convivial atmosphere ("covo" is a cosy Italian word meaning "haunt" or "hang-out") that the place is trying to create and indeed has created: the fitout is spotless and comfortably dark. You just have to get past that silly menu - and the waitresses in waistcoats and snap-brim fedoras - and settle down to eat.
The problem is that things don't get a lot better from that point on. The obliging proprietor, Andrea, is from Milan and I presume the chef is Italian because I heard him bellowing "capo!" (boss) to attract Andrea's attention. But not a lot of the food is notably Italian and the food that is is not notably good.
The pizza - a classic margherita (tomato, mozzarella, basil) - had an excellent topping but the crust was doughy and pale on the bottom. With Prego and SPQR turning out superb pizzas (albeit for a few dollars more) a few hundred metres away, it may not be good enough, but in a suburb that will so enthusiastically embrace the abomination that is Hell Pizza, maybe folks are easy to please.
I ordered what was billed as a pumpkin flan with crispy ox cheek, which sounded good. It tasted good too, so good in fact that I didn't mind the fact that it was a light cheese souffle (or that the ox cheek on top looked, smelt and tasted like it was once a part of a pig).
The Professor's fish (the menu said "candid" tomatoes, but she thought them rather discreet) was generous to a fault - three large fillets - and perfectly cooked. But our guest said her gnocchi (small bowl, big price) were utterly unremarkable and the duck ragout didn't taste very ducky at all.
In all it's an unprepossessing start for one of Grey Lynn's newest eateries. Now if you'll excuse me, it's time for my fitting for some concrete shoes.
Ambience: Laid-back
Vegetarians: Pizza and sides
Watch out for: Alfalfa sprouts with everything
Bottom line: Room for improvement
The Bill
$186 for three Starters $15-$19
Pizzas $19.50-$22.50
Pasta $21-$24.50
Mains $28.50-$32.50
Grilled vege $7
Wine (five glasses) $54