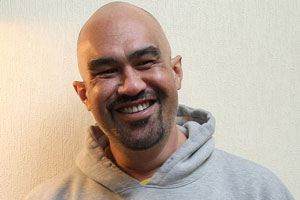 Te Hamua Nikora is the Maori men's posterboy for what not to do about your health - but he's still a ridiculously handsome one, he reckons.
The cheeky host of Maori Television's karaoke competition Homai Te Pakipaki, the channel's highest rating show last year, has an almost unbelievable combination of health problems. He is recovering from testicular cancer, has diabetes and is awaiting brain surgery.
Added to that, he's trying to stop smoking.
The 35-year-old's left testicle was removed in February. He knew for three years something was seriously wrong but did nothing about it.
"The 2009 final of Homai Te Pakipaki was one of the most painful days of my life. That was on the Friday, by the Monday I couldn't walk. I went to the doc and said 'there's a lump in my testicle and it's been painful 24/7 for the last couple of years'."
Telling the doctors was hard, but having the ultrasound scan which confirmed the cancer was worse, he said.
"There was a beautiful woman who did it. You know, I'm from Gisborne - you don't take your pants off for a lady unless they've bought you a drink. I was wishing for a man, even an ugly man."
The pretty lady told him there was no healthy tissue left. An intensive bout of chemotherapy followed the removal operation.
He is clear of the cancer now, but one of the complications was that a previously undiagnosed non-cancerous tumour on his pituitary gland, split.
The tumour has to be removed and he is awaiting surgery.
His type two diabetes, the result of too much ice cream and boil-up, is largely under control.
"I lost 40kg - if someone had told me to lose weight to look good I would have told them 'I'm already the most handsome man on this planet'. But when the doctor says 'if you don't change your diet you're going to end up the main actor at a tangi', it's easy, you do it."
Nikora's friend, Matai Smith, is hosting his show while he works from home on other projects for the station. He can't wait to get back.
He misses texts from cousins asking for numbers when they see a performer they like the look of, making cameramen giggle, and hardcase contestants - some who are "flat as pancakes" but all the more loveable for it.
He has kept his friends and family updated on Facebook so they become more pro-active about their health.
It's timely that Men's Health Week is looming, starting on June 14.
"I want men to go out and get themselves checked. I'm a proud Ngati Porou man who was too scared to do anything.
"We need as men to realise that families need the mum and the dad at home," he said. "And when the dad is gone because of something as silly as a sore nut - it's not worth it."
HEALTH WARNING
* Maori men are twice as likely as non-Maori to die prematurely.
* The main causes are heart disease, cancer and type two diabetes.
* Many need check-ups but are reluctant to go to a doctor.
Source: Ministry of Health.