Address: 570 Sandringham Rd
Phone: (09) 845 5555
Cuisine: Vegetarian Indian Cuisine - dine in and takeaway
Rating: 7/10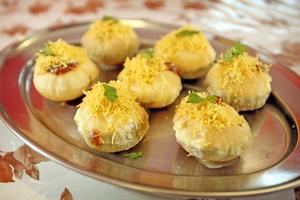 I've just returned from an eating extravaganza in India. So, the other night saw me dragging my parents and sister off to a Indian vegetarian eatery in Sandringham to show off my new-found knowledge.
I was reminded of the time when one of my other sisters, having returned from her big OE to India, in the 80s, was so enlightened by her experiences that she encouraged us all to abandon our Western ways and eat dinner with our hands.
Being a large family we had roast dinner most nights so eating such fare solely with your right hand, was no mean feat. Can you imagine it - five daughters seated around a dinner table in the suburbs of Auckland, trying to demonstrate their worldliness while the parents, seated at either end of the table, attempted to stifle their laughter?
Aah, the unconditional support of parents. I don't recall them telling us to get over ourselves and nor did they comment as, one by one, we returned to our cutlery.
Likewise with my suggestion to go vegetarian the other evening - not once did they say "But Nici, you love meat, we love meat, why are we going to a vegetarian restaurant?"
Jai Jalaram Khaman specialises in cuisine from Gujarati, a state in northwestern India where the cuisine is dominated by vegetarian dishes.
We began by ordering a plate of dahi-puri and another of papdi-chaat to share. Wow! I love dahi-puri and these were some of the best I'd had. These are little discs of puri (flatbread) fried until they puff up so that they can be filled with mashed, spiced potato, sharp yoghurt and topped with sour/sweet tamarind chutney. The trick is to pop the whole thing in your mouth for a full burst of flavour and texture. We are a family with big mouths so we polished these off in no time. The papdi-chaat were similarly delicious with the added crunch of sev - fried chickpea flour vermicelli - as a topping.
The "mains" were a bit more of a gamble for us. The first thing we noticed about JJK was that, though eating out Indian-style is a fairly regular family occurrence, the menu here was structured quite differently to what we were used to. It wasn't divided into sections for starters, curries or dhal and none of the familiar dishes were on offer (for obvious reasons) so we were ordering blind. The staff were very helpful and patient in answering our questions.
Two of us ordered the Gujarati thali - a platter that included rice, dhal, pickles, vegetable curry, salad, chutneys and a choice of breads (roti, thepla or puri). As far as thali go the selection was a bit bland but at $10 who can complain? I noticed that the thali "available weekends only" were the deluxe version at $19 and included paneer curry, savouries of the day and sweets.
I chose surti idla and sev-khamani. The surti idla was a plate of small squares of lentil and rice paste steamed and served with refreshing, green minty chutney. It was much like the breakfast snack, idli, that I had recently enjoyed in the southern parts of India. The sev-khamani was a dry-ish mix of spiced, crushed chickpea and topped again with the crunchy sev.
Mother dearest ordered the popular Gujarati dish, masala khichdi. This was a comforting mix of rice and lentil cooked porridge style and accompanied by khadi, a thin spiced yoghurt and channa flour soup, papad, pickles and salad. She claimed to like it but, to be frank, I wasn't getting the usual level of enthusiasm from either parent. This I put down to their personal preference for meat curries but also because the descriptions on the menu, for the uninitiated, don't really enlighten you as to what to expect. A second visit and we'd know what to order to make a more cohesive meal.
Don't worry that JJK is unlicensed - the mango lassi are fantastic. This chilled, thick yoghurt drink was a heavenly mix of fruity tang and sweetness. Also sensational was the small dish of shreekhand I had for dessert. This typical Indian dessert of sweet creamy, thickened yoghurt, spiked with cardamom and topped with almonds was great to finish with.
If you're looking for a change from the usual Indian fare then this Sandringham local is a good affordable option.
On the night we visited our fellow diners were all young Indian couples enjoying eating dabeli, the traditional Indian vege burger. Think I'll have to follow suit next time!
From the menu: Dahi puri, papdi-chaat, samosa, Gujarati thali x 2, surti idla, sev-khamani, masala khichdi-kadhi, shreekhand - total bill $66
Drinks: Unlicensed. Great mango lassi