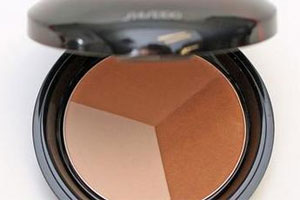 Creating an optical illusion is one of the best makeup artists' tricks to learn. Sculpt cheekbones, fine down a wide nose, and disguise wobbly jowls without resorting to fillers and scalpels.
You may not end up with chipmunk cheeks, a ski-jump nose and a chiselled chin, but with a little know-how you can draw attention away from your least distinguished features.
Shiseido's makeup artists recently shared some of their tips on contouring with me (see sidebar). The main one was, as is so often the way, practice makes perfect. They say one of the drivers of the return of contouring to fashion - last seen more scarily in the 80s - has been the demands of high-definition TV screens. Faces thrown into sharp relief can be helped with the addition of a few well-worked angles.
Makeup artist and cosmetics company founder Napoleon Perdis who works with celebrity clients from his base in Los Angeles, believes it's possible to contour your way to "an immediate youthful, slimming effect".
His tip is to use nude blush in the hollow of the cheek and champagne-coloured highlighter above each brow for an instant lift. In his book, Forever Flawless, he advises women of all ages on how to adapt industry techniques to good effect.
Bobbi Brown is another who has written well about how to best apply contours.
I find powder-based items the easiest contouring products to work with, but they require brush work. Sticks and creams blend well with fingers but, like gels which need quick blending, they tend not to last as long as powder. The advantage of creams is they won't look cakey, and they can handily multi-task on lips. To contour properly you'll need bronzer (or a deep neutral blush shade), a cheek blush and a highlighter, or seek out a compact combining all three products. Think of the application process as similar to using an eyeshadow palette, with the play of dark and light creating drama with shape and shimmer.
Heading into winter is a good time to try contouring techniques, with washed out skin benefiting from the addition of a little "natural" colour. There's also less worry about humidity undoing your handiwork. Just go easy - you want subtlety not stripes.
1. Shiseido Luminizing Colour Powder in Golden Bronze $26, in refillable compact with brush $50
Three-in-one product available in several shades to give you the essentials of contouring. As with other palettes you can sweep your brush over all shades for use as a bronzer or pick out individual shades to highlight and shape.
2. Chanel Moisturizing Bronzing Powder in Terre D'Or $92
Love the sun-kissed, rippled sand-dune look of this silky powder which is ideal for warming up the complexion on the face and neck.
3. M.A.C Mineralize Blush in Light over Dark $55
From runway to reality, fashion-forward M.A.C have long had a great range of mineral, creamy and powder cheek products for diverse skin tones. These bronzy shades layer fantastically well on medium and olive complexions.
4. Nars Orgasm Illuminator $87
Orgasm is a cult favourite powder blush shade that seems to suit pretty much everyone, though it's probably the name that sealed its fame.
Now Nars has put the peachy-pink shade, flecked with gold, into an illuminating fluid that glides on to really pep up your complexion. Wear it alone or mix it with your foundation for a glowy finish.
* M.A.C's Strobe Liquid Lotion and Smashbox's Artificial Light Luminizing Lotion are similarly excellent light-reflecting illuminators.
5. Shiseido Luminizing Satin Face Colour in High Beam White $68
From a range of blushes and highlighters in finely milled powders that stay colour-true, this is a true highlighter, as is Soft Beam Gold.
There are flattering peach and pink tones for the cheeks and a plum-brown best suited for darker skins.
6. Shiseido Accentuating Colour Stick in Champagne Flush $46
Add lustre to your skin with this easy-to-apply highlighter for eyes, cheeks, lips and decolletage. There are six colours to choose from, some better suited to lips and cheeks, while this creamy gold is ideal for adding radiance.
7. Stila One Step Prime Color in Capri Coral $60
Use this little tube on cheeks and lips. It blends in easily and you can build up the colour density as required.
8. Elizabeth Arden Color Intrigue Cheek Colour in Pink Star $56
After the contouring is done, don't neglect a rosy finish to enliven the face. Elizabeth Arden also makes a good cream blush which can be used as a lip colour.
9. Model Co Cheek & Lips in Rosy Red $42
A tube of strawberry-smelling tint for lips and cheeks. The transparent gel gives a freshly flushed look to skin.
10. M.A.C Paint Pot in Coral Crepe $42
A good example of a dual-use cheek and lip product that can also be used to flatter eyes, especially lighter coloured ones.
11. Nars The Multiple Tint in Beverly Hills $112
The colour of this multi-purpose stick looks saturated but it goes on sheer, bringing a soft cherry glow to skin. Alternatively, seek out the hot orange shade Turks & Caicos, which is just peachy.
Stockists: Brand counters except as stated. Model Co from Farmers. Nars and Stila from Mecca Cosmetica, Ponsonby Rd, or meccacosmetica.co.nz. Smashbox from Smashbox concept store, Ponsonby Rd, and selected Life pharmacies or smashboxcosmetics.co.nz. M.A.C from M.A.C Chancery and St Lukes and Smith & Caughey's.