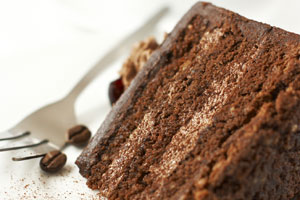 This recipe is the lovers' sexy midnight snack in the movie It's Complicated, starring Meryl Streep and Steve Martin.
For the cake
100g soft butter
250ml milk
300g self-raising flour, sifted
100g plain chocolate, melted
15g cocoa powder, sifted
1 tsp bicarbonate of soda, sifted
225g caster sugar (golden, if you can find it)
1 tsp vanilla
3 eggs
For the icing
225g plain chocolate, broken up
100g butter
142ml carton double cream
1. Preheat the oven to 180C. Grease a 20cm round, deep cake tin and line with baking paper. Place all of the cake ingredients in a large mixing bowl and whisk thoroughly until smooth. Spread into the cake tin and bake for an hour or until the sponge is firm in the centre. Then cool for 10 minutes, before turning out on a rack to cool.
2. Meanwhile, to prepare the icing, melt the chocolate and butter together in the microwave for around 3 minutes, stirring halfway through. Stir until smooth, then beat in the cream and let it cool a little.
3. Halve the cake through the middle. Spread a quarter of the icing on one half and sandwich both sides together. Spread the rest over the tops and sides.
Jane recommends: Decorate the top of the cake with halved fresh strawberries and whipped cream laced with icing sugar and a drop of vanilla essence for that extra special touch.