Beautiful singer/songwriter Erakah plans on dressing to impress at this weekend's S3 Pacific Music Awards in Manukau.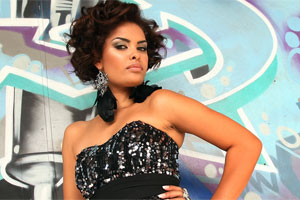 The best of local Pacific music will be celebrated in Auckland on Saturday night at the S3 (pronounced: ess-cubed) Pacific Music Awards - with up-and-coming singer Erakah upping the glamour factor on the red carpet.
Erakah, who is classically trained and has been singing since the age of seven in her church choir, is a nominee in the Best Pacific Female Award category for her single Wonderful. She has also lent her soulful voice to tracks by fellow local artists J. Williams and PNC.
Inspired by contemporary performers like Alicia Keys, Lily Allen and Beyonce, Erakah's personal look also reflects their combination of urban style with glamour.
"My stylist Leo-Style puts it plainly as 'undone glamour', but my friend Rickey-J puts it as 'cash-swagg' - or casual swagger."
On Saturday night Erakah will be wearing an ensemble made by one of her favourite designers, Sera Lilly - a piece described as highlighting the strength and beauty of womanhood.
When I'm on stage, I like to wear:
Heels! Makes a woman feel like she owns the room. Plus anything that's flattering. This winter it's gotta be jersey dresses.
What was the last item of clothing you bought?
I picked up a some ankle-high boots the other day. Stumbled across the store and fell in love with them.
What item of clothing do you want to buy next?
Knee-high boots.
What's your biggest indulgence/guilty pleasure?
Heels - sometimes I buy them impulsively. And of course pineapple lumps.
Best fashion bargain?
You can find great outfits in places that aren't seen as high fashion. Check out the Arcades on Queen St, K Rd, and second-hand shops. You can pick up an average jacket, deconstruct it and work it to fit what you want, then get your strut on. Trust me, no one else will have one like it.
What's the one thing everyone should have in their wardrobe?
Every girl knows that you've got to have that black dress in your wardrobe. And in terms of footwear, a good closed heel, open heel, boots, flats and tan/black stockings.
Your favourite shop?
Sera Lilly. I could spend hours in there. And I'm really into checking out second-hand shops as well.
What is your beauty routine?
Make sure makeup is washed off each night - get a decent facial scrub - and moisturise.
How do you define the word "fashionable", what does it mean to you?
The word to me means your own identity, your own stamp on items that you're wearing.
Whose wardrobe would you most like to raid?
You can't go past Rihanna's wardrobe. Why? It's Rihanna!
Is there anything you'd never wear?
Until this week it was over-the-knee boots, because I never knew what to wear with them.
What is the biggest fashion/beauty/hair mistake you have ever made?
Fashion-wise, probably being a bit too carefree now and then with what I wear.
Most cherished item?
My Guess bag that a really close friend bought for my birthday. It's so big you could fit a child in it.
Best music for getting dressed by?
I love anything that's upbeat or gets you in the mood for whatever you have on that day or night.
Describe the best outfit you've ever worn.
A simple black dress by Christopher Chronis.
Who is your ultimate fashion plate?
Whoever does Rihanna's shopping is amazing. Or Beyonce - I'd probably veer more towards her.