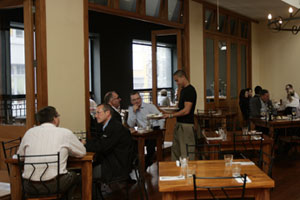 The cherry blaze of a fire is the first thing you see at the top of the stairway that leads to Vivace. It's the perfect welcome now that winter's taking hold. (Look on the bright side: in less than a month, the days start lengthening).
Of course it's not a real fire. Would you fancy lugging the wood up, and the ash down, those stairs? It's one of those gas jobs with the lookalike logs glowing in the flames. But that's real warmth it pumps out and you can stand in front of it and warm your hands without feeling like too much of an idiot.
Unfortunately, the fire's in the bar area and, in the market for a meal, we found ourselves steered towards a table for two which felt slightly out of the way.
This is not a complaint so much as an observation, really. Vivace, after all, is the Italian word for lively and it's more suitable for group dining than an intimate dinner. The tables for two tend to be on the margins.
Restaurants bud, bloom, wither and die in this town and the short-lived usually deserve their short lives. But the market moves in mysterious ways: there are a dozen restaurants I could name that deserve to die like dogs, yet maintain rude good health because the fact is that you can fool some of the people all of the time and they can be enough to keep you in business.
But others prosper because they deserve to. Vivace is one such. Now in its 19th year of operation, it started in an upstairs room halfway up Vulcan Lane on High St, a space that was never going to be big enough.
It's been some time since I've been to the place, which was once a more popular lunch retreat than I would like the Professor to know. Recent reviews that I have read have been a bit ho-hum about the food, so I was preparing myself for disappointment - but no such thing materialised.
I think it safe to say that the kitchen won't win any Michelin stars any time soon but it seems to me a place with the courage of its restrictions. Vivace is a high-volume, good-value eatery with a wide-ranging menu and an intelligent, interesting list almost exclusively of New Zealand wines.
We grazed on several of the tiny "tapas" - some deliciously fat anchovies, an excellent insalata caprese (tomato and good-quality mozzarella) and a pan of sensationally tasty scallops, seared with coriander and lime.
The Professor chomped her way through a generous salad of fried haloumi (having established that it was Zany Zeus, the only local haloumi worth the name), in which the green leaves were livened with additions of walnut, roast beetroot and grapefruit.
We could easily have chosen a couple more such dishes but professional duty compelled me to order one main course: it was the crumbed thin-cut veal that the Italians call scaloppine, served with the lemon-and-caper sauce of the classic piccata, and it was great - crisp outside and juicy within.
The service was perhaps slightly matey for my taste: I always feel uncomfortable being congratulated on my "good choice" but it's in line with the casual atmosphere.
The way I see it, there's a good chance Vivace will keep packing them in for another decade.
Ambience: Open, yet cosy.
Vegetarians: Spoiled for choice
Watch out for: The fire.
Bottom line: Still terrific after all these years
THE BILL
$119 for two
Anchovies: $7
Caprese: $13
Scallops: $12
Haloumi: $20
Veal: $29
Apple and date pudding: $12
Wine (1 glass): $12.50
Tea: $3.50
Armagnac: $10