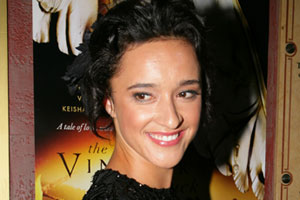 Oscar-nominated actress Keisha Castle-Hughes has quit drinking after battling an alcohol problem.
The 20-year-old made the admission in an interview in the latest issue of New Zealand Woman's Weekly.
The revelation came after she was pictured in a rival women's magazine leaving a support meeting for alcoholics last November.
Castle-Hughes, mother to 3-year-old Felicity, says the appearance of the photos was "a huge blow", but also "very liberating".
"All my dirty laundry has now been aired and I am free to just get on with my life," Castle-Hughes told Woman's Weekly.
"I am very happy about that."
Castle-Hughes, who has a partner, Bradley Hull, didn't reveal how long she had been sober but said only tea was served at her 20th birthday party in March.
She said friends were "very respectful and supportive" of her decision and quitting drinking "was the most positive decision" she had ever made.
Broadcaster Murray Deaker, who has made no secret of his own battle with booze, said he was "thrilled" Castle-Hughes has recognised her problem and taken the first step towards recovery.
"I think it's really hard when you're young," said Deaker, who has been sober for 32 years.
"I first tried to stop drinking when I was only 21 and it took me 12 years and a lot of heartache and the loss of a lot of opportunities before I was successful at doing it.
"We are seeing a number of people now who are seeking help much younger and somebody like her needs to get alongside people who have been successful and learn from them," Deaker added.
"It's not easy. We live in a country where there is a binge-drinking problem and when you're 20, it is damn hard. I know what she's facing."
Christine Kalin, chief executive of addiction treatment organisation Odyssey House, applauded Castle-Hughes for making her recovery public. "One of the real challenges is that there is a lot of discrimination in the community.
"Not many people will put their hands up and say 'look, I've had a problem and I've done something about it. I applaud her courage in making her recovery visible so others can gain some help from that."
Professor Doug Sellman, director of Otago University's national addiction centre, said giving up alcohol entirely was a radical move that suggested Castle-Hughes had established alcohol dependence.
"There are 700,000 heavy drinkers in New Zealand and 120,000 of those have alcohol dependence," said Sellman.
Asked whether it was rare for someone so young to be alcohol dependent, Sellman said people had to do an "apprenticeship" in heavy drinking before becoming dependent on it.
"She's been living in a world which most of us don't live in.
"It's very fuelled by alcohol and other drugs. Maybe she's been in social circles from an early age where she's done that apprenticeship."
Castle-Hughes also revealed she had begun to think of LA as her second home after overcoming its "huge layer of pretentiousness" and "lonely vibe".
During a hectic Oscars season she was at the same parties as Jeff Bridges, Antonio Banderas and Melanie Griffith, and chatted to Tom Cruise and Katie Holmes.
Keisha's controversies
May 2010
The Broadcasting Standards Authority upholds a complaint against Close Up in which it showed part of a sex scene involving Keisha Castle-Hughes in the film The Vintner's Luck.
August 2009
Prime Minister John Key tells Keisha to "stick to acting", a reference to her stance on climate change and role as ambassador for Greenpeace's Sign On campaign. The actress responded by inviting Key to meet her to discuss the issue.
October 2006
Soon after finishing filming the movie The Nativity Story, in which she played the Virgin Mary, 16-year-old Keisha Castle-Hughes announces she is pregnant to Bradley Hull, her 19-year-old boyfriend of three years.
August 2004
When Keisha is 14, her mother Desrae Hughes provides alcohol for a party at their Glen Innes home. A 22-year-old man is later convicted for having sex with a 14-year-old friend of Keisha at the gathering.