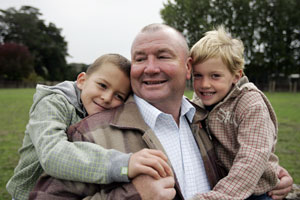 More men are becoming fathers later in life.
About 60,000 children are born in New Zealand each year, with the highest number of new dads in the 30-39 age group.
But the number who have a child after their 50th birthday has risen 20 per cent in the past five years. And 14 men who became dads last year were aged 65 or over, according to Statistics New Zealand.
Auckland University sociology professor Maureen Baker believes the trend is due to men finding younger partners, particularly after break-ups.
Wellington father and author of parenting book Call Me Dad, Eric Mooij, reckons it's down to men living longer and putting off things previous generations did earlier.
Men who become dads later tend to be more mature, financially better off and firmly established in their careers, so are working fewer hours than younger fathers, said Mooij.
But men who have children from the age of 70 "probably had to question if they were being responsible".
They might not have many years left, leaving the child fatherless and without a male role model.
Shortland Street star Peter Mochrie and league legend Graham Lowe are both older fathers.
Mochrie, 51, who plays Dr Callum McKay, and his wife Sally, 40, welcomed their baby Cade in March.
He told an Australian newspaper he felt more equipped to become a first-time father in his sixth decade than earlier in life.
"At this age I have more life experience, more patience, awareness and am more grounded," he told the Sunday Telegraph. "I'm so pleased at the timing of Cade's arrival and have never been happier. This is the right time for us and that's all I can ask for".
Lowe, 63, and his second wife Karen welcomed twin sons Sam and Jack in 2003. He also has two daughters from his first marriage, Sarah and Amy.
"At my age you look at the whole thing differently though," said Lowe, who has had the chance to spend more time at home with his kids second time around.
However, overseas research indicates children born to older fathers could be at a higher risk of mental health disorders, congenital defects, autism and epilepsy than those with younger dads.