Sauvignon blanc is in danger of going the way of Kath and Kim's favourite tipple, chardonnay.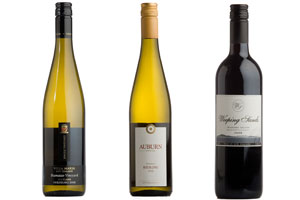 As most of this year's sauvignon harvest sits safely in Marlborough's wineries New Zealand's wine industry, instead of taking some time out to relax and reflect on the success of this year's vintage, is facing plunging prices and accusations of selling its sav to the devil.
By most accounts this year's vintage is a good one. Quality appears high, while quantity is likely to be slightly down overall on last year - welcome news given the surplus of sauvignon blanc that's been swishing about the system since the 2008 vintage.
It's this glut - the result of the recent explosion of plantings made when there wasn't enough sauvignon to satisfy demand - that's causing current concerns. It's a situation that's being intensified by the country's reliance on this one variety, which makes up more than three quarters of our wine exports.
Sauvignon blanc prices on the spot market have slipped to an all-time low, with reports of some growers being offered as little as $550 a tonne for their grapes - a figure that not only precludes profit, but is well below cost.
Before harvest, an offer of just a little more than this by Spencer Hill's Phil Jones ruffled a few feathers. However, given the increasing pool of growers finding themselves without contracts, he got some takers.
"There is only one way to solve this and it is to remove acreage," he states in his defence. "Although you will see many proclaim the surplus is over, the smaller crop this year is only going to delay the inevitable."
Just as the vintage kicked off, the industry received another blow from a negative article that appeared in major UK newspaper The Mail, which suggested New Zealand sauvignon blanc was currently undergoing a "chardonnayification".
"Fifteen years ago Australian chardonnay was where Marlborough sauvignon blanc is today, seen as a top quality, sophisticated wine with a high profile and vast sales," the piece said. However, cheap supermarket own brand labels and downmarket associations, rapidly transformed it from "flash to naff", it said, implying this could be the way our sauvignon is now heading.
Sadly, cut-price surplus sauvignon has found its way on to UK supermarket shelves. However, in response to the piece, European Director of New Zealand Winegrowers, David Cox was quick to point out that sauvignon sales are still growing in the UK by 27 per cent, while New Zealand maintains the highest average retail price per bottle of any country supplying wine to this important market.
Sauvignon sales aren't slumping; they've just not kept pace with our plantings. More serious though is if our sauvignon comes to be seen as cheap and ordinary, which may not be that far away.
On a recent visit to Australia I saw definite signs of sauvignon fatigue. "I'm so bored with New Zealand sauvignon blanc," was a comment I heard from a number of drinkers in a market where it's proved so much of a success it's become as ubiquitous as chardonnay. Let's hope Kath and Kim don't start quaffing it or it there goes its kudos!
This isn't the end of the road for sauvignon blanc, as there are many more wine drinkers ripe to be seduced by it, just as long as what comes out of the country continues to be as enthralling as the examples that got its first markets transfixed.
More probably it's a time for rationalisation. The recent low prices are unsustainable and will force anyone without true commitment to the industry or who bought into sauvignon to make a quick buck to get out just as fast, hopefully saving our sauvignon's reputation in the process.
ANYTHING BUT SAUVIGNON
UNTAPPED POTENTIAL
Villa Maria Ihumatao Auckland Verdelho 2008 $24.99
With hardly any verdelho planted in New Zealand, the quality of those coming out of Villa Maria suggests untapped potential. In this intense example, nuances of mandarin, nectarine, honey and spice are set off by zesty lime and mineral. (From First Glass, Glengarry.)
BRIGHT DEBUT
Auburn Twilight Central Otago Riesling 2009 $30
Would that the world discovers our rieslings, which are getting better by the vintage. This impressive inaugural release from Auburn is low in alcohol and high in flavour, running the spectrum from heady florals, apricots and spice through tangy grapefruit with a wonderfully slaty undercurrent. (From Glengarry, www.auburnwines.com)
ITALIAN ALTERNATIVE
Obsidian Weeping Sands Montepulciano 2008 $34
And if anyone fancies a change from pinot, this montepulciano is a fresh and smooth midweight alternative with notes of cherry bakewell tart, a touch of tannin and an attractive earthy edge. (From fine wine shops.)