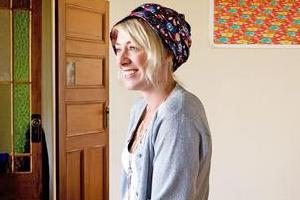 It inspired the TV show Go Girls and now the North Shore is being depicted in a play set to open tonight at Takapuna's PumpHouse Theatre. Actress and artist Amelia Guild features in Pear Shaped, a comedy about an average North Shore bloke. Written and directed by Andy Saker, founder of North Shore's indie Devonport Theatre Company, the play stars characters inspired by his North Shore friends and neighbours.
Guild, who plays Shore girl Karen, is as far from a stereotypical Shore girl as you can get - she grew up on a high country station in the deep rural south, and describes her personal style as a jumble. "I don't really follow labels or styles. I just buy what I like, or what I can find in the dress-up box at home."
Who are your favourite designers?
I don't have too many designer pieces but if I did I think there would be a bit of Stolen Girlfriends Club and World.
Best sartorial advice you ever had?
I was strongly encouraged to steer clear of black as a child. Consequently I don't own a lot of black today.
Colour is a fabulous thing!
Best sartorial advice to pass down to your own daughter/son?
Wear what makes you feel good. No exceptions.
Who does the best shoes?
Can I mention my Meindl hiking boots here? If not, then Converse's Chuck Taylors.
What was the last item of clothing you bought?
A red and white "paint-splattered" minidress.
What item of clothing do you want to buy next?
An 1980s Marilyn Monroe/James Dean print blazer. It could be a vicious bidding war...
What's your biggest indulgence/guilty pleasure?
Wearing bum-bags at festivals. I have quite an assortment. Snigger all you like, but these wee cargo carriers have served me well in many a mosh-pit.
Your fashion obsession?
Hats. It's debilitating.
What's the one thing everyone should have in their wardrobe?
A sparkly cardigan.
Most stylish city?
Barcelona. Everyone just wears what they want to. I love that freedom.
Whose wardrobe would you most like to raid?
Not very original, but Kate Moss. It would be abundant at least.
Describe the best outfit - or costume - you have ever worn.
Easy. Playing the Mad Hatter in a play I got to wear a 3ft-high twisting green top hat and the most beautifully crafted, hand-painted set of tails. Psychedelic patterns and colours galore. Add the artificial buck teeth and you have a very nice overall look.
What's in your handbag?
Phone, wallet, keys, lip balm, part of a script, some wayward mints and a shell that I want to make into a ring... only I wish I knew how.
Your best beauty tip?
Being a fair-skinned, freckled thing, it has to be sunblock. And while you're there, why not don a hat?
Who is your ultimate fashion plate/style icon?
Mum. I'm a total fraud; I just recycle what she wore back in the day.
What is your favourite decade, style-wise?
A roll-over from the 70s to the 80s with a sprinkling of 50s glamour. Why? Well, why not?
How long does it take you to get ready in the morning?
Not as long as it should, hence the obsession with hats.
Most cherished item?
My late grandfather's LRDG (Long Range Desert Group) military black beret.
Favourite fashion-y movie, or fashion moment in film?
I have to say most of the kit in Taika Waititi's Boy was inspiring ... if not a touch familiar.
Your favourite shop?
Primo Cafe in Methven. There is nothing better than sipping on a coffee while perusing the exciting mix of treasures that Maria has collected. Many a wardrobe gem has come from there.
*Pear Shaped, 19-29 May, The PumpHouse Theatre, Takapuna. Tickets, $25, from www.pumphouse.co.nz.