Singer's not only a diva - one of the greatest sopranos - she can also tackle a blue marlin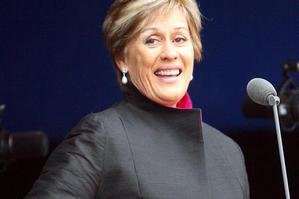 Wouldn't it be neat to be Dame Kiri Te Kanawa? She's got that glorious voice, obviously, and the luminous face. At 66 years old, she looks absolutely fabulous, like Lady Di's older, lovelier sister.
She's sung the most beautiful arias in history in the great opera houses of the world.
She has a magnificent collection of floor-length, feathered gowns. And underneath all of that frou frou, beneath the eyeliner and the warbling, Dame Kiri is made of steel.
When she is not singing, she likes to go fishing, for enormous deep-sea fish. If you go on the internet, you can watch clips of her fishing in Russia and Norway.
But she especially likes fishing at home in New Zealand. Last Christmas, she caught a 217kg blue marlin in the Bay of Islands.
For the unfamiliar, marlin are like swordfish, only more evil. They swim incredibly fast, and can grow to more than 5m in length, and come complete with a long, murderous spear.
A few years back, a commercial fisherman made the papers when he was impaled on the bill of a 4m blue marlin off the coast of Bermuda. For most of us, it would not be advisable to get between a marlin and where a marlin wants to go.
Not Dame Kiri, though. She goes out looking for marlin, and lands them on the jetty. She christened her boat with the one she caught last Christmas.
"Usually she tags them", a spokeswoman for the Bay of Islands Swordfish Club told a newspaper. "But because of its size she brought it in. I think now she is having smoked fish and pate."
Just 217kg of smoked fish and pate. Can you imagine? It took her 50 minutes to reel the bloody thing in.
Dame Kiri is like a cross between Maria Callas and The Old Man and the Sea. It is difficult not to admire her, difficult not to want to be her, no matter what she says about Susan Boyle.
Dame Kiri is in trouble this week because of comments she made about the Scottish singer.
Asked about Susan Boyle in an interview with a British magazine, she reared up at the hapless journalist like one of her own thoroughbreds.
"You insult me by even wanting to bring it into this conversation. I'm not interested," she said.
She then went even further on the subject, as divas are wont to do. "Move on. I'm doing something classical, not whiz-bang. Whiz-bang disappears. It goes 'whiz' and then 'bang'." Quite.
For these comments, Dame Kiri has been roundly castigated, accused of rank snobbery and of being out of touch. She does seem out of touch in one way, certainly.
Is Kiri Te Kanawa the last person on the planet to realise it's unacceptable not to adore Susan Boyle? The cult of SuBo, Britain's favourite underdog, has spread all over the world.
It's certainly reached New Zealand, where Susan has been clutched to the collective bosom like some sort of ungainly singing teddy bear.
I recall a fair share of hate mail myself for suggesting she might be a famous flash-in-the-pan.
But what on Earth possessed the journo to bring Susan Boyle into the conversation in the first place?
I know Dame Kiri was promoting some sort of opera competition she's involved in, but still.
As someone who's asked her fair share of stupid questions in interviews in the past, the schadenfreude-soaked part of me was thrilled by this.
Granted, she was hilariously precious in her dismissal of SuBo, but what else can you expect from Dame Kiri Te Kanawa? She is literally, and figuratively, a diva - one of the world's greatest sopranos - being asked to opine on a singing pudding belting out show tunes.
As someone who has worked all of her life to ascend to the pinnacle of achievement, who has willingly sacrificed the blood, sweat and tears that great art demands, it is not hard to extrapolate what Kiri Te Kanawa might think about a woman who won a telly talent show.
Granted Dame Kiri and Susan do share an era, but most right-thinking people are with the dame in placing them at opposite ends of the performance continuum, just as La Scala occupies one end and Britain's Got Talent another.
There is a conversation to be had here, about the large-scale democratisation of the arts, and the 21st century commodification of culture in cahoots with mass-media consumption in Western society.
I'm sure that Kiri Te Kanawa, as one of the great opera singers of her era, would be well placed to engage in such a discussion, but the place to get started isn't with Susan Boyle.
I do feel sorry for that journo, though. From the sounds of it, he would have had a better time with a 4m marlin than he did with Dame Kiri.
Her interviewers would do well to remember something Kiri already knows - when you go fishing for big game, it's wise to be prepared for a fight.