Rating: 8/10
Address: 82 Hinemoa St, Birkenhead, Auckand
Phone: (09) 419 9082
Website: eightpointtwo.co.nz
Cuisine: Contemporary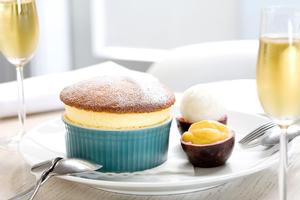 I was nervous. While I'm always telling people that Auckland's restaurant scene matches that of any international city I felt under pressure when arranging a catch-up with a couple to debrief their recent eating spree in Melbourne. I knew their expectations would be elevated, having enjoyed five days of dining out heaven in that food-centric city across the Tasman.
Where to take them? I'd heard that Eight Point Two in Birkenhead had a new chef, Marcel Leydesdorff, and given this restaurant has had its fair share of awards since opening in 2007, it was worth a crack.
The beautifully restored villa makes for a great first impression - cleverly lit on the outside with an interior that is modern and spacious without being too austere.
Leydesdorff aims to change the menu every few days to make the most of whatever is in season and to reflect New Zealand's artisan food producers. The menu is printed at 5pm each day and features five to six starters and mains, as well as a three-course set menu option that changes daily.
The set menu on offer the night we visited included roasted fresh figs with prosciutto followed by slow cooked lamb with new season Brussels sprouts and parsnips and for dessert, poached quince with Kohu Road Golden Syrup ice-cream.
This option was snapped up by the one of our threesome who admitted to being delighted that "at last, unpopular vegetables are being championed on a menu!" Since our visit, I've been watching the menu online and am pleased to report that it does indeed change every few days.
For my starter I couldn't resist the sound of braised squid with chorizo, chilli and tomato. It was spicy and rich and kicked my tastebuds into action nicely. The baked figs were sublime and, as is often the case when consuming ingredients that have such a short season, I savoured every mouthful. The tuna starter was so prettily presented I was pleased it wasn't me that had to interrupt the artwork. The debrief was going well thus far.
The main course of slow-cooked lamb was stunning. It was reported as being sweet, melt-in-the-mouth tender and the unpopular vegetables were consumed in no time. My half-roasted baby organic chicken wrapped in pancetta and stuffed with lemons, bacon and thyme was interesting. It was full of flavour and the flesh had the integrity of a good organic chook, but earlier I'd noted a young woman at a neighbouring table wrestling with hers and assumed it was her lack of knife and fork skills that were making it such tough work.
Not so. When mine arrived I found it equally as awkward to get into and it marred the experience of enjoying the dish. Perhaps it could have done with a bit of slow cooking so that the flesh fell away from the bone a bit more.
The steak main, a sirloin, was just a tad overcooked but we praised the chef's choice of cut all the same. While eye fillet is revered for its tenderness, to my mind it can be devoid of flavour.
A sirloin, with its greater fat content and firmer texture is a superior cut and tastier.
I admire anyone who'll take a risk in serving some of the more temperamental dishes to guests or paying diners. I know most chefs claim that souffles are a doddle and that, if you're nervous, bust out a twice-cooked one, but let's be honest, they still feel freaky. If they don't work out, there's no recipe for souffle rum balls! So when we spied the passionfruit souffle on offer we had to try it. "Allow 20 minutes" the menu said.
We waited in hopeful anticipation. What arrived at our table can only be described as a miracle. Rising high out of its ramekin as a perfect voluminous puff, this was like eating a passionfruit-scented cloud. The finale of the set menu, the poached quince, was also outstanding.
Throughout the evening, owner Lindsay Swannack was the consummate host. His relaxed professional attention never lagged from start to finish. Having sourced wines from boutique vineyards in New Zealand, Lindsay was gracious in advising, informing and arranging tastings to aid with our selections.
Together with his new chef and in three short years, Lindsay has developed Eight Point Two into much than a neighbourhood eatery. I wouldn't be surprised if they're talking about it in Melbourne.
From the menu: Set menu $58, squid $18.50, tuna $18.50, roasted baby chicken $28.50, sirloin $32.50, passionfruit souffle $21
Drinks: Glasses of Koura Bay pinot gris 08 $11, St Meyland Methode $11, The Doctor's riesling 08 $10, Isola Estate cabernet merlot 08 $13