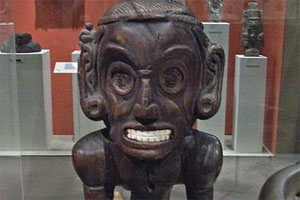 For centuries it was thought that the images of bared teeth which confronted early European visitors to the Caribbean were gruesome warnings from the locals. But new research has now suggested the "devilish grimaces" were actually welcoming smiles.
European explorers arriving in the Caribbean 500 years ago called the motif, common in the art of the Tainos - pre-Columbian inhabitants of the Bahamas - "an abominable expression, deformed and ferocious".
But research conducted by Bridget Waller of the University of Portsmouth and Alice Samson, of Leiden University in the Netherlands, claims to show they were mistaken.
"The Taino used the bared-teeth motif as a signal of affiliation and benign intent. It was most likely their version of depicting a smile," said Dr Waller.
Dr Clem Seecharan, of London Metropolitan University's Department of Caribbean Studies, said the misunderstanding was endemic of the early interaction between the two peoples.
"Europeans, with their relative technological advancements and power, were able to define what was civilised and what was savage," he said.
"Even tried and tested local methods disappeared to be replaced by the European versions, so it is unsurprising that the understanding of Taino culture is influenced by this type of misunderstanding."
Caribbean artists carved the "bared teeth" motif into wooden chairs and used it in bracelets and necklaces made of shells. But European visitors deemed it "anti-Christian".
Dr Waller said the teams compared the images to the smiles used by social primates, such as rhesus monkeys and chimpanzees.
They found that "regardless of the specific context, baring teeth is most probably about social bonding".
- INDEPENDENT