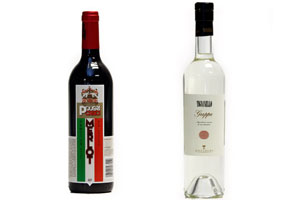 After going on record last week about Italian wine being astonishingly food-friendly, I thought I should put up or shut up.
What follows is a suggested meal from Auckland Italian restaurant Non Solo Pizza with matching wines - some Italian, others with Italian genes but produced in New Zealand.
Antonio Crisci owns and runs Non Solo Pizza. He was formerly of the legendary Toto and now also produces wines on Waiheke Island with Italian flair under his own Poderi Crisci label.
To start, Insalata di Mare, a selection of poached seafood dressed with Poderi Crisci olive oil and lemon. Bramito Chardonnay 2006 from the Umbria region has enough weight, flavour and texture to gently wrap around the myriad flavours of the seafood.
Next is Pappardelle al Rgudi Coniglio. Homemade free-range egg pappardelle with a ragout of rabbit with capsicum, sundried tomato, paprika and pecorino pesto. A sangiovese-dominant red from the Chianti Classico Tuscan region will be perfect.
Peppoli 2007 by Antinori is an easy-drinking, well-structured red with hints of cherries, violets and spice. A sublime match.
The piatto principale, Agnello con Piselli, is spring lamb braised with lardo de colonnata, green peas and agria potatoes, which are roasted with garlic and rosemary. Poderi Crisci Merlot 2007 is bound to please. Okay, not strictly Italian but it has Italian DNA, and the name and label scream Italy. As the saying goes, you can become part of an Italian family without being married to it.
Tiramisu as a dessert is a tad obvious and a little bit 80s. While Crisci would no doubt whip one up on request, he's more likely to finish with something like Parmigiano Reggiano. Aged Parmesan with caramelised sundried tomato and cinnamon. This would normally be unaccompanied, as the aged parmesan would be a major challenge to most wines and not necessary. Strong cheese usually slaughters wine.
However, in the interests of authenticity a short espresso (milk is frowned on after lunch) with a shot of Tignanello Grappa would be deemed correct and acceptable to round off the meal. Food and wine matching is fun, it's frivolous, more art than science and, ultimately, it's what works for you.
RECOMMENDED

2007 Poderi Crisci Merlot
Perfect with lamb. It's rich, velvet and soft with aromas of black doris plums, morello cherries and a whiff of cigar box. Subtle, fine-grained tannins. Good value.
Price: $30
Tignanello Grappa by Antinori
Do not attempt to drive or use heavy machinery after imbibing. Sip slowly, in miniscule quantities. Obtained from the distillation of sangiovese and cabernet grapes, this is hugely alcoholic and, in blind tastings, could pass as kerosene.
Price: $86 (500ml bottle)