Address: 82 Hinemoa St, Birkenhead, Auckand
Phone: (09) 419 9082
Website: eightpointtwo.co.nz
Rating: 2.5/5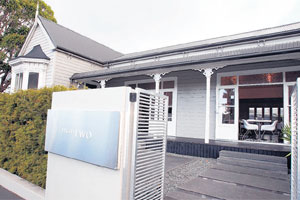 Flash mob: We had just finished our desserts (two helpings of poached quince with ice-cream; four spoons) when they arrived. There were probably a dozen but they had the impact of 100. The blaze of flashbulbs as they took, or cutely posed for, each other's photographs was enough to induce epilepsy and the excited babble of the women, all "ohmygod!" shrieks and rising terminal inflections, was enough to induce a shudder.
Many, if not most, had plainly engaged in what police refer to as "pre-loading" because, let's face it, who can afford to get absolutely trolleyed on restaurant wine? It was just as well - for them, I mean - that we had nearly finished because the Professor forbore to give them a piece of her mind. They will never know how lucky they were.
Even before we were rudely interrupted, I couldn't help noticing that Eight.Two is an aurally challenging environment. Wooden floors and the absence of drapes make the room like an echo chamber. This was a shame because our guests, who move in the right circles, had some delicious gossip about Very Famous People and we were keen not to miss a word.
We've been twice to the restaurant generally regarded as the second best on the Shore (if you don't know what the best one is, you haven't been paying attention) and we were once deeply disappointed and later almost as deeply impressed.
The difference was the arrival in 2007 of expat English chef Nigel Marriage, but he's now in Wales and the new chef is Marcel Leydesdorff, who has done time at Vinnies and Chandelier. A press release advises that his philosophy is "all about excellent produce, simply presented," a sentiment whose banality I find more depressing than I can say.
Our first waiter, who happened to be the boss, was one of those given to constantly refilling your wine or water glass, a pressure-selling habit I detest - and which, incidentally, I can't remember encountering in any country other than this. He was receptive to our request that he desist; indeed he made quite a fuss about it, told us he'd pass the instruction on to the staff and returned to assure us that he'd done just that. When the next waitress confirmed she'd received the news I was starting to regret having said anything, which may have been the intention.
At last unmolested, we were able to enjoy the mainly good but seldom outstanding food. I thought the slow-roasted leg of lamb, which was just like mother never used to make, quite superb. Served with nutty roasted Jerusalem artichokes, it was comfort food of surpassing class.
The Professor and our companions were more ambivalent: the tarakihi, unimaginatively served with creamy mash, was declared overcooked, though the hapuku (with cockles and a medley of olives and capers) impressed. The presence of a murderously large fishbone in a plate of braised squid was presumably the result of carelessly prepared fish stock.
It is difficult, in short, not to conclude the place has gone off the boil, since Leydesdorff's ideas are better on paper than on the plate: my entree, the first word of whose menu description was "oysters", was French onion soup, with the shellfish lightly grilled under the cheese of the toast on top. It tasted as it sounds - a contradiction in terms -but the thought was there. Perhaps as time goes on, Leydesdorff's food will prove that it's not just the thought that counts.
Ambience: Noisy.
Vegetarians: One entree
Watch out for: Braying.
Bottom line: Finding its feet
THE BILL
$339.50 for four
Entrees $18.50-$19.50; Mains $28.50-$32.50; Desserts $14; Water, wine $81; cocktail $10.