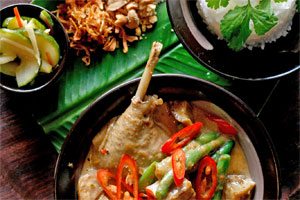 A young person from one of the style-conscious professions spoke warmly of the Ponsonby Road Bistro. So after a recent restaurant experience in that part of the world took us on a trip into the past, we thought it might be fun to try a complete contrast.
There was no doubt about the appeal of this place. It was bustling with atmosphere, busy and cheerful, with some well-known faces and more than a sprinkling of customers from the creative side of Auckland life. The premises are inviting, with a central bar and stark, black tables across the front and down either side. There's not a vast amount of room and I'm not sure I'd pick it for a quiet, intimate dinner but the high-volume chat level is part of the buzz.
The style is consistent with the choice of staff and the service was simply terrific - as good, if not better than anywhere we have encountered in the last year or so. It was never intrusive but every need was anticipated and the knowledge displayed of both the food and the extensive wine list was impressive. The recommendation of a glass of muscadet was inspired in its reminder of what a contrast different white winemaking styles can provide.
The menu is not long but the specials were described with comprehensive precision.
If the menu is not large, it certainly draws on a wide range of influences. There was a Thai-style red duck curry, one of their specialities is described as a Spanish plate, while a British source might be the basis for the apple and quince crumble, the vanilla rice pudding and rhubarb desserts. There are a couple of sound, simple pizzas and the universal steak and fat, hand-cut chips which a neighbouring customer was having looked tremendous. A particularly New Zealand touch, perhaps, came with a shellfish of the day offering (clams, on our visit) and the oysters are freshly shucked on demand.
Our first courses reflected an even sunnier source than Auckland has been this summer. A fresh fig and pecan salad accompanied a fine goat's cheese tart, which had a base of braised onion reminiscent of french onion soup. This was excellent, as was my roasted sardine with a pine nut salad. This, like many of the dishes, was available in an entree or main size and I wished I had been really greedy and had the main as a first course. One sardine, admittedly a well-nourished specimen, wasn't really enough.
My main course of the red duck curry was prettily presented, with the crispy shallots, peanuts and pickled cucumber fanned on a side plate and the main substance was fresh with coriander although, in all honesty, it wasn't miles above your neighbourhood Thai staple.
The fish of the day, John Dory, was excellent, the fish coloured and crisp-skinned but not dry and served with an interesting barley and porcini risotto. The fennel salad provide that lively aniseed grace note. When it came to desserts, I was deterred from the nostalgia trip of rice pudding only by the thought that rice following rice might be a bit much. My default chocolate parfait with a vivid espresso syrup was all that a chocolate dessert should be. Our other selection, a passionfruit pannacotta with lemon verbena biscuit, was another model of its type, mirroring the overall high standards set here.
Rating out of 10
Food: 8
Service: 9
Value: 7
Ambience: 8
Our meal: $173.50 for two entrees, two mains, two desserts and five glasses of wine.
Wine list: A good list with a wide and well-priced selection by the glass. We had Pegasus Bay sauvignon semillon, a Mahi Twin Valleys gewurztraminer, a Paddy Borthwick Wairarapa chardonnay and a Chateau de la Ragotiere muscadet.
Verdict: Good food, brilliantly served in lively and stylish surroundings. Just the place for the company to shine in an evening to lift the spirits.