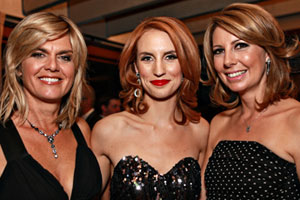 The woman who is still recovering, in body and mind, from giving birth to, and then raising her small children should be re-introduced to socialising in small increments.
Not thrust from slummy mummyhood to a party with "NZ's most beautiful" with no intermediary steps in between. And certainly no proper clothing.
My invite was to my husband Ali's work party, the 20th anniversary of TV3's Nightline, on Friday night. Granted, I had enough warning, but a week from hell left me with about 30 seconds spare to plan what I was going to wear.
Central to this whole disastrous story was a dress brought in huge haste about a week ago. You know the scenario - when you get a quiet window and burn rubber to Dressmart to try and buy a new winter wardrobe in 30 minutes? That one.
A purple dress caught my eye - which should have been my first red flag as I can't stand the colour usually. I tried it on. Unusual, yes. But I thought, why not update my wardrobe a bit? Largely a stay-at-home mum, my wardrobe is tatty pants and stained tops.
I need something bold, something new... something that covers the flab.
Fast forward to 8 o'clock on Friday night, and I have 30 minutes to shower, dress, and apply the war paint before the taxi comes to take me to the big event.
As you'd expect, the children had been particularly hard to settle that night which shaved a good five minutes off my re-invention. The babysitter was fractionally late - another five minutes gone.
Also gone - long gone - are the days when you could luxuriate in a bath, face mask applied and cucumbers resting peacefully on your eyes in preparation for your big night. Step two: dress leisurely with a glass of wine at hand and the stereo full bore.
Now, when you need the preparation time more than ever, it's just impossible. You shower for five minutes, decide to once more forgo shaving your legs because no-one sees them anyhow, scour your wardrobe to the dulcet tones of Mickey Mouse Clubhouse while cursing the extra weight that has automatically invalidated most of the good stuff, and slap on enough concealer and foundation to earn you a place in the geisha houses of Kyoto.
Having just about killed myself slipping over a mini doll stroller while running from the shower to my bedroom, I had no time to dilly-dally. I removed the aforementioned dress from the wardrobe and threw it on with everything else I had imagined in the shower might work.
Wrong, wrong, WRONG. The shoulder pads appendages, so beguiling in the shop, were enormous. When I'd added the other elements to the outfit, I resembled someone who was forced to don two thirds of her wardrobe because her baggage came in over-weight at the airport.
A few quick modifications and I still looked like a Dada Society performance artist. I hauled in the babysitter. She gamely tried to tell me I looked ok but suggested I remove the belt.
As soon as I did that she said quietly, "um, you better put it back on".
I asked her to please tell the taxi driver to wait and frantically tried to make a silk purse - hell, even a synthetic silk fanny pack - out of a sow's ear.
The coup de grace was a pair of new, cheap high heel stilettos that, as soon as they touched my feet, were pure, exquisite torture.
Hobbling to the taxi with half my makeup yet to apply in the front seat mirror, I decided to try the "suck it up" coping technique, and if that failed, the "sit in the corner" route. Easier said than done when you enter a party and there are no seats (everyone's standing) and, there before you are Carolyn Robinson, Samantha Hayes and sundry other famous faces of the screen looking like they've just stepped off a movie set. And some of them have young children too - Carolyn's had three, and would still not look out of place on a Paris runway!
It is at times like this you have to come to terms with the fact that possibly, if not probably, your personality will have to come to the fore and your looks, although still marginally acceptable, will play a lesser part in your interactions. It's a moment of truth that most women have to face at some stage and can be confronting.
Most of us won't look like a TV glamazon ever, let alone from 35 onwards. So, trying to ignore my strange get-up, I stood at the party, trying to hide the grimaces of pain my shoes were causing, and aimed to converse and interact more like a free-and-easy adult rather than someone who has lost the art of sophisticated conversation (if I ever had it).
I'm pleased to report that, regardless of what anyone may have thought, I had a good time and even managed to stay awake until 1.30am, which is practically legendary in my household.
I hope to have at least 45 minutes to find something more suitable to wear next time, though!