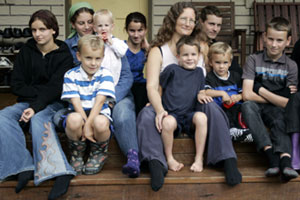 When Michelle tells people about her brood of 17, "their jaws drop". Then they ask if they have misheard.
"It usually takes three times before people believe me," says Michelle, who with husband Peter think bigger is better when it comes to family.
Peter scoffs at the idea of having the average two kids. "It's pathetic!" he roars with laughter. "What do these people do all day?"
The youngest is one year old and they reckon it's unlikely they will have more because Michelle is 44 - "but you never know" says Peter, 56.
Statistics NZ does not keep data on family sizes so it is not known how many bumper-sized broods are about. But the Bruntons are definitely different.
Home is in Makarau, 45 minutes north of Auckland on a 5ha block that's lush with trees and borders a stream. It features fruit trees, a home-made wooden seesaw, cattle, ducks, cats and kittens.
It's perfect for hide-and-seek which it feels like the children are playing as they endlessly pop out from behind bushes and giggle.
Twelve are at home when we visit: Jethro, 18, Anna-Marie, 16, Leah, 15, Harriet, 13, Deborah, 12, Jacob, 11, Zacharias, 10, Jimmy, 8, Ben 6, Zebulun, 4, Ethan, 3 and Julia, aged just 18 months.
Victoria, 21, was working at the family's shop, and the other four - Sarah, 26, Joel, 25, Rebekah, 22 and Rachel, 20, - are married and have left home.
It usually takes a wedding or funeral to get all 17 children together in one place. They have never managed to line up the entire family for a single photo, Michelle says.
While getting ready for our photographer, the older children swoop to pick up the younger ones and help them put on their their gumboots and smile.
There's no bustle or big noise. The task is orderly and without fuss, just how the household is run, says Michelle, who buys her children their clothes on birthdays.
Peter met American-born Michelle "with long golden curls" when her family was in his then home-town, Rotorua, setting up a church.
He thought they might breed six, but their Christian faith led them to "let God decide".
Peter runs a hardware store, where several of his children have helped over the years.
"I had three daughters working and one day a guy thought he had been served by one girl - until he saw them all standing together!" he laughs.
The family gets some tax rebates if his store has a bad year, but generally they do okay. He goes fishing in the nearby Kaipara Harbour. The other week he caught 51 snapper "which will do 10 family meals".
The weekly grocery bill comes in at about $500, including 40 litres of milk and 20 loaves of bread.
He says the family "are all caring and watch out for each other" and he credits his wife with being an amazing mother and teacher. She home-schools the children.
Peter says all the older girls can cook and there's baking every Saturday.
Inside, there is no roster. Children just take up responsibilities as needed. Anna-Marie makes porridge in bulk every morning. Jethro raves: "I can catch an eel from the stream with my hands. I just grab'em!"
Seven boys share one bunkroom. Jethro says sleeping isn't a problem, "It's what we're used to".
A diminutive 1.5m and quietly spoken, Michelle says childbirth gets no easier after more than a dozen children. "I have a well-used body," she says wryly.
Michelle says if there is ever a lack of one-on-one time "there's always someone else around to get a cuddle from".