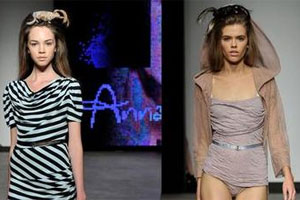 And so it ends. Australian Fashion Week came to a close yesterday, with Annah Stretton the last New Zealand designer to show.
Ksubi closed the week with a spectacular show - it was being dubbed their comeback show, as the brand went into voluntary administration (i.e. almost went under) before being bought by another company.
The show was styled by international stylist and Harpers Bazaar editor-at-large Brana Wolf, and also acted as Ksubi's 10th birthday celebration.
New Zealander Annah Stretton celebrated her RAFW solo show debut with a collection called Stop the Slaughter, which aimed to help create awareness and cruel farming practice in the pork and poultry industries. See, fashion can be deep! The show started an hour and a half late (not Stretton's fault, blame the swimwear and new generation shows earlier in the afternoon), which probably didn't help with audience numbers - nor would showing on a Friday which is generally the quietest day of fashion week.
Once the show finally started, there were two parts - part one showcased Stretton's 'chameleon' range which features garments that can be worn ten different ways. The usual Annah Stretton signatures; prints, fabric, wraps and layering.
Next up was the main Stop the Slaughter collection, which was inspired in part by animal activist Brigitte Bardot - whose face was projected as the backdrop. Think gingham, full skirted silhouettes, neutrals, lingerie detailing, a lot of sheer and chiffon fabric and lots of romper suits; the latter of which I'm not entirely convinced real women actually want to wear. The hair pieces in the model's hair were cute: little animal figurines covered in hair; very Lady Gaga.
So how did these clothes reference the animals? A neutral palette (Stretton's symbol of the innocence of animals) was interjected with shots of red, and shirring and quilting techniques represented the imprisonment of animals.
Perhaps a group of women that I overheard after the show can sum it up better than me (as I am certainly not Stretton's market). "It was beaaaaaaautiful, but some of it was a bit weird."