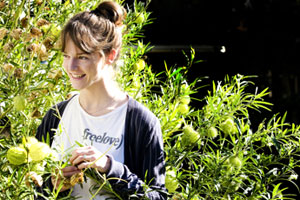 Isabelle Olson is mother to Mila Piwaiwaka Joan Olson, a beautiful little girl who she describes as being the hardest and most magnificent part of her life.
Mila was born with a diaphragmatic hernia, meaning Olson and partner Benny spent the first four or so months of Mila's life in the paediatric intensive care unit.
Now a healthy one-and-a-half-year-old, Mila was the inspiration behind Olson's new kidswear label, Piwaiwaka.
"I guess I initially created Piwaiwaka as a kind of remedy for myself - I needed something to help me re-connect with people, with life outside of the somewhat insular place that the past two years had left me in. I've always been a sucker for sewing and design, and often make garments for myself or Mila so making clothes for others naturally seemed like the next best step for me to take," explains the 22-year-old.
Piwaiwaka - which is Maori for fantail - currently includes cute hats and clothes (or "limited treasures" as Olson describes them) for 0-2 year olds, and is available to order from piwaiwaka@yahoo.com.
But first and foremost, Olson is celebrating the joys of being a mother.
"When you have a child I think one of the endowments you gain is that of constancy - you will always be a mother, and for the men, a father. It's a generous dose of 'purpose' which I'm sure most of us do like."
Who are your favourite designers?
I love all sorts of bits and bobs from everywhere and anywhere but to name a name, every time I drive past Kate Sylvester's shop window there's always something I love.
What was the last item of clothing you bought?
A man's French Army mesh undershirt that I wear as a dress.
What do you want to buy next?
I'll have to check what's in the coin jar first, then maybe a possum scarf.
Who or what inspires you?
History and the future.
Your favourite accessory?
I shy away from accessories, I just have a ring that never leaves me.
Best fashion bargain?
My man's French Army mesh undershirt.
What's the one thing everyone should have in their wardrobe?
Coat hangers.
What is your beauty routine?
Hauora, the best thing I learned at school - you need to take care with every aspect of your health; that will result in beauty.
Your favourite shop?
I do have to say the pet store, mainly for Mila's sake, her sake is my sake though.
How do you define the word "fashionable". What does it mean to you?
It's how you carry yourself, I don't think it has to represent a current marketable trend.
Whose wardrobe would you most like to raid?
Mila's, if I could upsize it all, especially her shoes!
Is there anything you'd never wear?
No, there's a time for everything.
How long does it take you to get ready in the morning?
I'm sure many mothers will agree that you wake up ready.
Most cherished item?
My OLD jeans.
Best sartorial advice you ever had?
That not every trend in fashion is meant for you or your body type, so pick your battles.
Best sartorial advice to pass down to your own daughter/son?
Adore yourself before you adorn yourself.
Favourite fashion-y movie, or fashion moment in film?
A Clockwork Orange, the clothing tells the story just as well as the narration.
Most overrated item in fashion?
Fishnets.
Most underrated item in fashion?
Things like socks and hair ties.
Best way to recycle your old clothes?
Chop and sew.
What are you wearing right now?
Right this second - a woollen top covered in hand-embroidered flower vines where holes once were, and woollen tights.
How would you describe your style?
A direct reflection on how I felt at the time I got dressed.
Who is your ultimate fashion plate/style icon?
The Emperor from the story by Hans Christian Andersen.
Describe the best outfit you've ever worn.
I haven't worn it yet but when I do it will be a "peace silk" jacket and shorts with some Hunters.
What is your favourite decade, style-wise?
I choose this decade. We now re-create any decade we wish, style-wise.