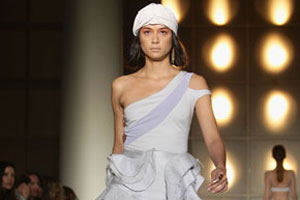 Day two of RAFW began with an amazing view of a giant clock out the window of my room at The Westin, then a painful dash in heels to the Camilla and Marc show (the emergency flats came out before I got to the venue; they may be staying put for the rest of the week).
The brother and sister duo always draw a good crowd with perfectly tousled glossy hair, and this morning's show at a beautiful old building with morning light streaming through the roof was no different.
The clothes were signature Sydney, with a feeling of journeys to far away lands; a desert dream where glamorous girls wear turbans, bold prints, draped lightweight dresses and lots of gold jewellery.
I liked a heavily detailed - and I can imagine very heavy to wear - leather jacket with bold gold buckles, as well as the pretty pastel shades and customised blue heels. I didn't like what was possibly the most unflattering draped romper suit I've ever seen.
Sabatini White
New Zealand's representation came from Sabatini White, a knitwear label that is often overlooked back at home. Their collection, called The 3 Faces of Eve, Ella & Emanuelle, was inspired by the 1957 film The 3 Faces of Eve, about a woman - Eve - with three separate personalities.
This idea was translated into three ideas within the one collection that dressed each facet of her personality: feminine 'Eve' who wears pretty pastel knit dresses, the sexier 'Ella' who the Sabatini White team dressed in knit gowns in black and silver, and Emanuelle, who is a tad lazier than the other two and just likes to lounge around in her apartment in soft cup knit bras and high waisted underpants.
If that all sounds a bit sporadic then the connecting theme was pretty much pretty knits. The collection isn't exactly the most fashion forward thing that the RAFW runway will see this week, but every woman wants an easy to wear, beautiful dress - and Australia is a massive market for the local knitwear label, so they're doing something right.
I'm heading out to explore Sydney now, before heading to shows from Friderich Gray and Ellery later tonight.