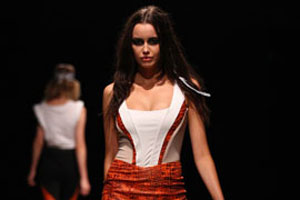 It was a strangely alcohol free 5th birthday show at Stolen Girlfriends Club last night; perhaps a reflection of the team growing up and wanting to move on from their rascal reputation.
For their Rosemount Australian Fashion Week debut there were no gimmicks and no booze in jam jars (this is a good thing), although there was the prerequisite late start and trek to the middle of nowhere - and a voice over from Samantha Hayes yelling at everyone to sit down - now!
The SGC team wanted to go back to their surfer roots for this collection, and this idea was translated literally into lots of wearable sportswear - raglan tees, exercise shorts, cropped bikini tops, boardshorts, backpacks leaking sand.
A bold Aztec print featured heavily throughout, as did diamante encrusted bandannas, a reference to surfer gangs or tribes - or hipsters photographed by the Cobra Snake, who was in fact at the show.
I'm not convinced that this was as big a step forward as the collection they showcased at NZ Fashion Week show last year - but there is plenty here to keep their growing fanbase happy.
RAFW stalwarts Zambesi showed earlier in the afternoon; with a collection that reflected the signature aesthetic of the godparents of New Zealand fashion. It was a longer show than it should have been, but beautiful nonetheless.
Female models wore hair nets and male models wore straw hats, giving the range something of an Amish feel. Netting fabric dresses and buttoned up shirts, shredded detailing on silk jackets and a bold acid wash print featured throughout, and lace, sequins and a palette of pink, beige and white lent a surprisingly feminine feel to the collection.
The menswear was particularly strong, with schoolboy shorts, buttoned up polo shirts, pin striping and an update on this season's Letterman jacket.
Australian fashion darlings Camilla and Marc are up first today, followed by Zimmermann, hipster darling Friedrich Gray and A-list beloved Alex Perry.
New Zealand will be represented by Sabatini White, showing at 1pm Australian time.