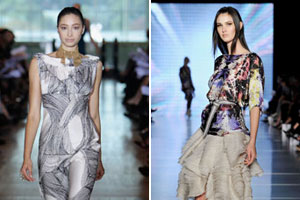 1.30pm: Uh oh. I'm in Sydney for Rosemount Australian Fashion Week and have realised that I've forgotten the essential accessory for the week. No, it's not a Celine handbag, not a Maison Michel headpiece and it's not a pair of the swallow print Miu Miu heels.
It's a small table to put in front of me while I'm at a show, so I don't have to balance my notebook or laptop on my lap.
Blogger Susie Bubble, of Style Bubble, was spotted with one this morning; I wonder if every other blogger on the RAFW invite list will have one of their own tomorrow.
Bubble is part of the A-list blog contingent at RAFW this year, which also includes Tommy Ton of street style website Jak and Jil.
Ton's blog will be worth visiting if you want to check out and perve at what people are wearing this week - he's into hardcore fashion and shoes.
Today's shows include two exciting New Zealand labels: Zambesi and Stolen Girlfriends Club.
I'm excited about both, but particularly Stolen Girlfriends Club's off-site show later this evening. It is their first official RAFW show, and I'm really interested to see how their hype and branding goes down here.
Check back later for more on Zambesi's show, and tomorrow morning for Stolen Girlfriends Club.