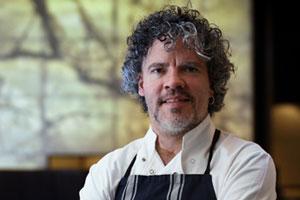 There's a baby in Peter Gordon's kitchen. (No, it's not on the menu. But the young boy has been dressed by the man himself.)
"He's too young to know he's wearing a Stella McCartney shirt bought for him by a fabulous man from London," hoots Gordon, planting a kiss on the boy's cheek.
You might suspect this was staged for Canvas' benefit. If ever there was a photo op to disprove the tyrant chef cliche, this would be it. Except today is significant for his staff, some of whom (like the baby's dad, one of Gordon's chefs) have come in especially. They're here to present the executive chef with the new dishes they've created for the winter menu at the restaurant known as Dine by Peter Gordon. They'll also go over the five-course degustation menu they'll cook a few days later to mark a significant milestone. In a town where many restaurants expire before a year is out, Dine has just celebrated its 5th birthday.
This is Gordon's 22nd trip home from London since he launched his signature restaurant in April 2005; he returns regularly to oversee each new menu.
There's a subtle air of nervousness as Gordon takes a spoon and samples each dish. He wants to know why the rice in the tofu cannelloni has been popped, how much the duck in the orzo risotto cost, why a dish has been labelled confit (it's actually tartare, says the self-confessed stickler for accurate culinary terms). The parsnip and cucumber garnishes will also have to go.
Gordon is used to being asked how he gets away with putting his name to a restaurant where he doesn't do the cooking.
"[The late] Gianni Versace had 20 designers working for him," he reasons. "There's an overall feel to his designs."
It's this conceptual approach that has allowed Gordon to run Dine while based in London. He also owns the Marylebone high street restaurant The Providores and Tapa Room, where he is notorious for pinning details of his latest culinary experiments along the wall.
He can claim ownership of some of Dine's dishes - the winter menu will feature one of his most popular of the last five years, a crayfish laksa with soba noodles. But his role here is mostly supervisory. He could design the menu with no input from anyone, he says, but giving his chefs ownership of the dishes instills pride and therefore his trust for them to turn out consistently good food - if he approves of the dishes in the first place, that is.
"The process is really democratic," he says, nodding his approval of a black bean sauce drizzled around a plate of scallops produced by an eager young chef, "but you've also got to be quite bull-headed in your approach."
That said, he dislikes the bully mentality perpetuated by the Gordon Ramsays of the world. He gets angry at silly mistakes, like the time a chef at The Providores used peanuts instead of pine nuts, putting a peanut-allergy sufferer at risk.
"I will be in the kitchen going, 'for f***'s sake, what have you done? Get this right!' But we don't push our chefs against the wall and punch them. We don't throw pans at them. Food and dining should be fun for everybody, including the people who make it."
A typical dressing-down Gordon style: "Some day you will own a restaurant and someone like you will apply for a job and you will not employ yourself."
Nor will he stand for preciousness. Donatella Versace once came into Sugar Club - the restaurant he started in Wellington and eventually opened in London - and ordered Gordon's chicken dish with an anorexic diva twist. Gordon told the waitress to pass on the fact that he'd seen a pair of Versace pants he wanted, only without the sequins, the pleats and in a different colour.
"I thought, 'God, I'm being a bit cheeky but hopefully she'll see the funny side'." She returned to the restaurant for the next two nights.
Hotel restaurants seldom earn the reputation Dine has. It has frequently been named in various magazines' best-of lists and is often booked out. Gordon prefers to call Dine a restaurant that happens to be in a hotel. Its success comes despite its location off the main street, tucked away beyond the SkyCity Grand foyer - and his popular Spanish tapas bar, Bellotta, which has a street-front entrance, albeit in the lane that runs between the SkyCity Grand and the SkyCity Casino.
"People view [Dine] as a destination restaurant," he says.
It helps that the restaurant has the benefit of the hotel's marketing budget, although Gordon is quick to point out that only half his diners are hotel guests. Over the past five years they've included Sting, Tyra Banks and the metal band Tool. Perhaps Gordon's glamorous interior, co-designed by Tom Skyring - bold lighting, wood panelling, and no windows through which to view Auckland's quiet city streets - reminds them of home.
It's unlikely they'd get any of the same food combinations though. Gordon is regarded as a pioneer of "fusion" cuisine, and a passionate advocate of New Zealand produce. Dine's focus being striking flavour combinations inspired by South East Asia, China and the Mediterranean, the executive chef has a palate so wide he can get away with adding fish sauce to a lamb stew, caramel to seafood or kawakawa to pork belly. Rather than giving it a quick sear in the pan, Gordon's wagyu beef - from the prized Japanese cattle treated to the equivalent of a life at a bovine day spa - has been braised for five-and-a-half hours. Dishes like these, he says, "you won't see anywhere else".
He credits the talents and knowledge of his staff for allowing his fusion creations to keep evolving. New Filipino head chef Bernard Bernabe, formerly of White at the Hilton, and Kiwi sous chef Nancye Pirini preside over a kitchen staff that includes Korean, Taiwanese and Japanese backgrounds, "a bit like the food," says Gordon.
That's not to say Dine's recipe for success has worked every time. Since the recession, lunches have been pared back to Fridays only. Gordon says he's aware the notion of fine dining can be a hard sell in New Zealand, where we're arguably more comfortable with "cheap and cheerful" than silver service - although Dine is more on the relaxed and intimate side.
"We're trying to get away from this idea of Dine being too 'posh'."
Although the restaurant was named a finalist in last year's Cuisine awards, Dine didn't make it into the winner categories announcing the Restaurant of the Year. It's a testament to the high standards Gordon expects that he is still reeling from the magazine's three-star review, which nonetheless heaped praise on the wine, ambience and food.
The review also remarked that "the judges had some less-than-satisfactory experiences this year, with staff more attentive to each other than to the diners", a line he says he had no choice but to take seriously.
"It was devastating for everybody," says Gordon, pointing out the awards coincided with a topsy-turvy period during which their previous head chef Ben Mills and the manager were about to leave.
"Were we really as bad as they said? Everyone's doing their best but I think things had slipped. It was probably a really good shake-up for everybody."
Things are back on track now, he says, and it seem at least one critic agrees. The Herald on Sunday's Peter Calder ordered the degustation during Dine's birthday week and gave it 4.5 out of 5 stars.
"It just feels tighter," says Gordon. "I came here last night with my mum and, I'm not just saying this, it was one of the best meals I've had here."
If Gordon is nervous, he doesn't show it. The night of the five-course degustation birthday dinner and members of Auckland's extended media circle, including broadcaster Paul Henry, chef Ray McVinnie and fashion designer and Canvas columnist Denise L'Estrange-Corbet, gather at Dine in their finest. Gordon, too, has stepped out of his chef whites for the occasion. Sporting a black shirt and a tiki, he explains the menu to the 80-odd crowd as though chatting to old mates, throwing in his disdain for the Brits' condemnation of air miles (a "myth" he's trying to banish for the sake of using Kiwi produce abroad), and a confession that for years he thought horseradish was red because that's the way his neighbour used to make it.
The only thing missing this evening is an expensive shipment of cutlery from Rotterdam in the Netherlands he'd ordered especially for the new season. Right now it's somewhere between New Zealand and Singapore. Not to worry. The food speaks for itself: a Dine favourite of haloumi salad with water chestnuts and pecans, crab-crusted hapuka in a broth containing 25 ingredients, an exotic take on good old tapioca pudding spliced with the flavours of passionfruit, mango and avocado. It's like eating citrus pearls.
Typically of Gordon, he has plenty more on his plate after this. He's packed almost as many activities into this two-and-a-half-week trip as there are ingredients in his dishes: a night in Wellington, a couple of days in Wanganui to see his dad, a fundraising dinner at Pohlen Hospital in Matamata. He's also agreed to appear on Maori TV arts show Kete Aronui, during which he'll talk about the gourmet hangi he cooked last year at Turangawaewae marae in Ngaruawahia - the Maori king dined on wagyu beef ribs braised with soy, miso, horopito and star anise, thank you very much.
You'd never know Gordon was suffering from shingles, brought on by a particularly stressful period before he came to New Zealand.
"Work was flat-tack. We were a bit short-staffed, so I was pulling 60-70 hours a week in the restaurant."
That's on top of his other projects - a pop-up restaurant in a friend's distillery, a product development project for retailer Marks & Spencer, the regular consultancy work he does for Air New Zealand and restaurants in New York and Istanbul, the food writing he does for the Financial Times.
He'd also just held his yearly Leuka event to raise money for the Leukaemia and Blood Foundation, 12 years after successfully donating marrow to his sister Tracey. This year, he says proudly, the dinner raised $1 million. Gordon, who was last year named an Officer of New Zealand Order of Merit for his charity work (he also supports the New Zealand LAM Charitable Trust and the Children's Fire & Burns Trust in London), says he's inspired by his paternal grandmother, Molly Gordon, who received a Queen's Service Medal for her charitable work.
He joined a gym in London 18 months ago to alleviate the stress but his trainer, perplexed by Gordon's frequent absences, recently texted to ask, "what are you doing?"
"If I could get eight hours sleep a night," Gordon sighs, "I'd be in a really good space."
Meanwhile, his own meals are somewhat ad hoc, despite his family having raised him to eat well. Dinner is usually spelt crackers with cheese, a hunk of the 15kg of lamb currently in his fridge or a ready meal sample he's developing for a British supermarket.
Gordon insists he does say "no" occasionally - he wouldn't put his name to cigarettes or supermarket giant Tesco, for instance, both of which are "unhealthy and oppressive". But he's even developed a habit of turning his holidays into work assignments.
He is looking forward to a gastronomic tete-a-tete, part of an idea he pitched to a newspaper in Britain. Fellow London chef Yotam Ottolenghi will take him to Israel to introduce him to Palestine's best hummus-maker and the region's best Jewish matzo. Gordon showed Ottolenghi around New Zealand in January. On their return the two chefs will helm a week-long, food-related creative writing class at the Arvon Foundation.
Does he ever get bored of talking about food?
"Never. I love it. I think food's amazing. It's the possibility of what's out there, how something banal can be transformed."
It's been a transformative year in the chef's personal life, too. Last year he split with his partner of 20 years, Michael McGrath, with whom he co-owns The Providores. The pair have also invested together in Waitaki Braids vineyard in Central Otago.
"It wasn't devastating," he says. "It's sad. There was a bit of grieving but never any histrionics. People change."
The split has meant Gordon has moved around London, from West Hampstead to East London's Shoreditch with new partner Simon Jackson, then, realising they couldn't live together, back to West Hampstead with McGrath, who also has a new partner. He and McGrath are still business partners and best mates, he says. Gordon loves to collect things on his travels. He arrived in New Zealand with a suitcase of European clogs for the Dine staff. Before he returns he'll fill it with ceramics and designer salad bowls.
Then plans are afoot for Gordon and Jackson, an expert in African botanicals, to make a travel, food and nutrition television show, hopefully a bit more sophisticated than the low-budget endeavour Gordon made in Britain years ago where he confused continuity by wearing different coloured shirts.
"I'd love to do a TV show where I could visit countries I love, but I don't want to be one of those Mickey Mouse chefs on the telly where it's just some farcical thing."
These days Gordon considers himself more of an entrepreneur than a chef. He turns 50 in three years' time, which is part of the reason he is so busy chasing deals. He has written six cookbooks which have sold 240,000 copies. In October he was here to promote the latest, A Culinary Journey. He's always got his ear out for ideas.
"I'm trying to think, 'what is my future?' There's a brand out there called 'Peter Gordon' and I know that sounds all-American and new-age, but I need to capitalise on that. No doubt in 10 years I won't be in the kitchen much at all because I'll be 57. I'm trying to use the skills I have to be more commercial."
It's hard to imagine how he'll manage that. But it's bound to taste interesting.
* Do you have a cooking question you would love to have answered by an expert? Peter Gordon will become a contributor to the Weekend Herald in coming months, and is happy to pass on his tips and tricks of the trade. He's ready now to begin preparing his answers for you. Email him at askpeter@nzherald.co.nz