Address: 89 Karangahape Rd
Phone: (09) 303 3366
Cuisine: Japanese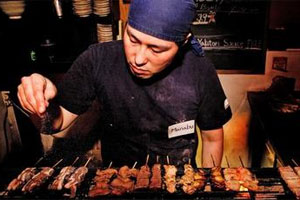 I'm always so sad when it's time to put the cover on the barbecue, leaving it for the slaters and earwigs to move in for the duration of winter. Seeking comfort for my barbecue blues I grabbed a friend and headed to K Rd. To No 89 to be exact. Through the small curtained doorway and into... Ken Yakitori Bar. Here the barbecue coals burn seven days a week, 12 months of the year.
Ken's takes its name from owner Kenichi Miyamoto who established the K Rd location in 1997 and followed up a few years later with a second Ken's in Anzac Avenue. Much was made of these cute little bars when they first opened as the notion of the yakitori bar was relatively novel in New Zealand at that time.
Yakitori literally means "grilled bird" and traditionally consisted only of various parts of chicken but these days in can include chicken, beef, pork, seafood and vegetables. Small pieces are threaded on skewers then lined up to cook on a grill that sits over glowing charcoal. The quality of yakitori depends heavily on the charcoal used and Ken Yakitori Bar uses only the best - binchotan. It is made of Japanese oak, is close to pure carbon and reaches temperatures as high as 1000°C.
It is highly prized by chefs as it produces very little flame, thus not scorching the food.
In Japan, Yakitori is one of the most popular foods and although it looks simple enough, there's a definite art to it. The delicate control of the seasoning, with salt and/or the sweetish sauce, made from a mix of sake, mirin, soy and sugar, and the charcoal heat is what distinguishes one yakitori chef from another. It is a mesmerising process to watch. Dipping the skewers in the tare (sauce), placing them on the grill, salting, turning, brushing with sauce again... and on it goes.
So there we were, sitting at the bar like a couple of drooling labradors, hoping that at least some of our order had made the grill and started cooking. To be on the safe side of hunger we'd placed an order, from the kitchen menu as opposed to the yakitori menu, for squid tentacles. Before we knew it, a plate piled high with piping hot, fried tentacles arrived. Marinated first in a soy sauce based marinade, they were salty, tangy, tender and delicious.
All yakitori dishes at Ken's are served as two skewers on little ceramic dishes, with sauce. Before we'd polished off our plate of tentacles our first dish of yakitori was popped in front of us - mushroom halves with bundles of sliced leeks. Juicy mushrooms, almost crisp leeks, and all imbued with the smoky aroma of the grilling process. It's an incredibly gentle yet pervasive barbecue flavour that's achieved with this style of cooking.
Next up were the prawns. Warning: they don't look all that spectacular. Second warning: two skewers will not be enough once you've tasted them. Wrapping the prawns in thin bacon ("pork" on the menu) keeps them succulent and gives them a saltiness and smokiness that somehow still doesn't overpower their flavour. As we used our teeth to slide the morsels off the skewers, all conversation halted. Next to arrive was the chicken thighs, followed by the beef with daikon radish and spring onions. The beef was a bit tough and next time I'd go for the beef tongue that everyone else seemed to be ordering.
Just in time to soak up the leftover sauce in our dishes was the grilled sticky rice. We'd watched as these had been repeatedly basted and turned on the grill until they were heated though and the outside was caramelised and crunchy. A great texture and taste sensation.
Gripes in our night were that the salad we'd ordered never arrived, and the service was slow despite it not being overly crowded. Perhaps mid-week they're not as revved-up as usual.
There's an impressive array of sake and beer on offer at Ken's plus a decent enough wine list. As I always find beer the perfect beverage to go with a barbecue, it was a cold one for me but as the weather gets cooler I've no doubt I'll be back for the warming qualities of sake to go with my food.
So, if you're grieving the end of the warmer weather and missing the taste of barbecued food, head to K Rd and this cosy little eatery and I guarantee you'll feel comforted by the experience.
From the menu: Marinated squid tentacles, Prawn wrapped in pork, Leek & mushroom, Skewered sticky rice, Beef with daikon radish, Chicken thigh: Total $47 (food only)
Drinks: Fully licensed + BYOW (corkage $8 per bottle)
Rating: 8/10