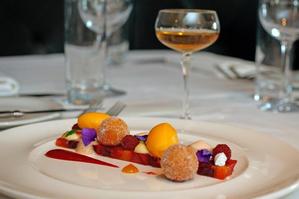 As I was looking at the tempting menu at The Grove, it occurred to me that I rarely order fish as a main course in restaurants although I am a devoted seafood enthusiast. It's probably because I believe it is served best almost untouched by human hands and not mucked about.
But with memories of a sensational crisp-skin snapper on one of my previous visits here, I went for the John Dory. The fish was, as expected, expertly cooked and came with cavalo nero (not cavelo as in the menu) that tangy dark green Italian cabbage, pickled grapes, almond and verjus. The flavours worked well at first but the textures were such they slid into a bit of an amorphous blend. A good dish but not brilliant and the penalty The Grove suffers from establishing such a reputation for itself over the last few years with its parade of premier chefs is that it is inevitably judged at unforgiving levels.
I had also had some minor cavils about my first course. The duck and rabbit terrine was first class, richly flavoured and beautifully presented but, for my taste, the truffle brioche was too sweet for balance and the white radish didn't add much.
The dessert was, however, a complete little triumph. Described as citrus presse, it arrived with mandarin sorbet and the humorous touch of tiny jam doughnuts.
But if I had some slight reservations, my dining companion had none and declared her entire meal as of the highest quality. She, like me, had some decision problems in making a choice for the entrees - the ballotine of roasted quail and the crispy pork cheeks both appealed strongly - but the yellow fin tuna was superb and the whipped avocado, basil, and cucumber sorbet provided appropriate additional notes.
I remarked recently that lamb did not always star in New Zealand menus but her lamb rump with broad beans, gremolata and aubergine caviar was meltingly delicious. After these successes the chocolate pave with roasted pineapple icecream had to come up to scratch in a big way. And it did, providing a definitive statement of the essence of chocolate and rounding off a memorable meal.
The service is very slick and a query to our serving person about a wine from their huge list was properly referred to the sommelier. If anything, the delivery was almost too brisk, more suited to lunch-time trade than a relaxed evening and you don't expect the first course to arrive almost simultaneously with the hot rolls. Where we were sitting the music, not always appropriate in my archaic view, was occasionally intrusive but nobody else seemed to notice and the place was lively, doing the sort of business for a mixed bag of customers that The Grove's consistency and overall merit deserves.
Rating out of 10
Food: 8
Service: 8
Value: 8
Ambience: 7
Our meal: $239 for two entrees, two mains, two desserts and five glasses of wine.
Wine list: A formidable wine list and a good glass selection, with the welcome option of half bottles. We kept to the glass list with our 07 Seresin reserve chardonnay, 09 Marisco pinot gris, 08 Peregrine and 08 Craggy Range Te Muna pinots noirs being representative of the quality.
Verdict: Top level food, comfortable surroundings and pleasing atmosphere. A good venue for the occasion when you feel you deserve a treat.