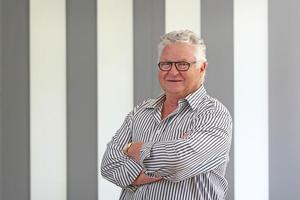 Dave Donaldson loves pointing out the flaws in his buildings. This seems odd. After all, he's a property developer who's here to sell. But as we wander through the Steel Works, an artfully restored brick, timber and steel beauty he owns in Auckland's Mt Eden, he just can't help himself.
"See the pock marks in the wall?" he says, gesturing towards the holes in the bricks where brass handles formerly gripped the wall. "They're so cool."
Where others might see imperfection or blemishes, Donaldson sees beauty and, more importantly, potential.
This building was once, in the early 1930s, a factory which hummed with industry as men manufactured steel-framed windows. Later it was the haunt for a coterie of renting artists who embraced its dilapidated chic. Now, as we exit Donaldson's cavernous office through a swinging glass door that makes a mockery of its former life as a pixie entrance, our footfalls echo off the timber floors around silent, modern spaces which are home to a web design company, a talent agency, a graphic design firm.
As we walk on, he finds more flaws to love. Upstairs, where an ad agency is soon to reside, the walls might meet at an askew angle and the concrete struts have Pisa-style leans but Donaldson grabs the pillars like they're dishevelled hobos he's decided to keep around.
The Steel Works has been transformed from frail old lady to strong, sexy queen who, after having steel rod implants, can't bring herself to get rid of her vintage accessories. This ramshackle former factory now has 18 live-work units with price tags running as high as $1.45 million.
It might have been different. The Steel Works could just as easily have been made dust like so many other old Auckland buildings. Indeed, before Donaldson and his business partner Mike Bakker came along, no one wanted to touch it. The ceiling was a safety hazard. The bricks would swing in the breeze. Sewage pipes drained into neighbouring properties. It was, he says, an engineering nightmare.
"I often ask myself why I do it," says Donaldson. "It's crazy because it is frustrating and difficult. But the end result looks fantastic. And I really appreciate creative types of people."
Where most property developers would shun the huge cost and effort involved in preserving these old structures - he won't say how much the Steel Works cost to restore - Donaldson is drawn to them, partly out of an obligation to preserve Auckland's scant heritage, mostly for the challenge.
He is responsible for some of the most ambitious conversions in the city. He transformed a cruddy old post office into Takapuna's upmarket Department Store, a development praised by British style magazine Monacle. He replaced an old dairy with hugely popular eatery, the Takapuna Beach Cafe. He developed the old Kiwi Bacon factory in Kingsland into quirky office spaces. And he revitalised Auckland's oldest pub, the Drake Street Tavern, Freemans Bay.
Each of these iconic buildings had lost their lustre and, in some cases, their floor supports. Donaldson played shoeshiner, rescuing them from the knocks and scuffs of time.
"If it was down to pure economics it wouldn't make sense to do anything but bowl them," he says. "It's my intention to create something special."
At 68, Donaldson is a bit like his buildings: solidly built, a what-you-see-is-what-you-get character brimming with stories and a passion to make things happen. But you wouldn't call him steely. Despite his love affair with the hard metal - he used to own an engineering company and his brother Neil, a welder, reinforced almost every part of the Steel Works with steel - Donaldson has an affable, almost gentle approach to business. He invests time in conversations with the same enthusiasm he does his dosh.
When The Department Store held its staff Christmas party, it was Donaldson who played Santa. He says he loves to get the best out of people because he is indebted to the talents and guidance of so many others, none more so than his business partner Bakker, who is battling a serious illness.
"I think you'll find that cliche [about property developers] doesn't apply to Dave," says architect Jack McKinney, who designed Donaldson's beachfront Takapuna home as well as the Steel Works and the Takapuna Beach Cafe. Which is to say, he's not dating a 19-year-old and driving around in a Lamborghini.
And who needs a flashy sports car if you can get around in a chopper?
Donaldson's been flying for 35 years. He also set up a training school at North Shore Airfield, introducing helicopters to the fleet.
Why flying?
"Just for the challenge," Donaldson says, nonchalantly.
As opposed to, say, diving?
"Oh I do quite a bit of that too."
That might seem a boast, but he's not, apparently, one to crow. McKinney actually had no idea Donaldson flew a helicopter until he invited the team working on the Steel Works for lunch on Waiheke one day.
"We turned up to the helipad and he just straps himself in. We zoomed over there, he had all the moves. That was a bit of a surprise. The door came open on the way back so we had to do a bit of a tricky landing on the hillside. He's mysterious like that.
"Dave's mode is to be quite cool and calm and gentle. He talks to all the guys on the site and he gets involved in what they're doing. He's very enthusiastic and takes a positive point of view, not that belligerent, cut and thrust, slash and burn style [typical of some property developers]. For him that's quite an effective way to get what he wants done."
Even as a youngster growing up on a farm in the Bay of Islands, Donaldson was perpetually active. And for many years, his working life was in perpetual motion too.
He'd spent his childhood milking cows, feeding pigs and roaming the 405ha near Lake Omapere his father had nourished to life from an arid existence. When he left school he moved to the city to learn the building trade.
After 18 months working as a labourer on a building site in Manurewa, he returned home to help his dad with the milking. It was around that time world champion shearer Godfrey Bowen took Donaldson under his wing and taught him another trade.
"I used to shear 300 sheep a day and make £6 per 100 sheep," says Donaldson. "That was good money in those days."
But not good enough. Donaldson had his sights set on becoming a businessman. With the encouragement of his father-in-law he hit the road from Auckland to Cape Reinga, selling brake-linings for trucks and buses.
Then another transformation. He started an engineering company that made a range of products, including rag bolts for the building trade, electric forklift trucks, cast iron and sophisticated metal cutting machinery. In 1976, the company, called Donaldson, won a Trade New Zealand export award for sales to the Japanese. He sold the business in 1979, by which stage it had grown to 70 employees. Retirement seemed an attractive option but after two weeks of boredom he was ready for more change.
"I guess you think that retirement sounds fantastic," he says. "But seriously, you've really got to keep an active mind. I had a lot of contacts and I wanted to do something exciting again."
So he got involved in the meat trade, which, at the time, was on the cusp of big things abroad. Sir Alan Hellaby was heading the government's Export Year scheme and was keen to try and take fresh lamb to the United States. Donaldson took on the task of convincing Americans to buy New Zealand lamb. He also struck a deal with the dairy board to do the same with New Zealand cheese - until lamb and cheese were firmly on US supermarket shelves.
If all this feels eons away from property development and saving buildings like the Steel Works, it isn't. The common factor is Donaldson's talent for getting people to see things his way.
Donaldson first laid eyes on the Steel Works in 1976, when his company was installing saw-cutters and steel windows. He fell in love with the building, seduced as much by its romantic former life - he loves steel so much he even used it to fence his home - as he was by the creative people who congregated there.
The factory was built in 1924 for a steel-framed window manufacturer, the Woolnough Window Co Ltd, which in a merger became the Crittal Metal Windows Company, and the building became its national head office. The business closed in the 1970s and the factory became studios, a jewellery manufacturing plant and the base for the Auckland Regional Centre for Historic & Prehistoric Archaeology. More recently, its spaces were rented by a range of artists, photographers, designers and publishers.
The building remained in the back of Donaldson's mind for more than two decades before, in 2003, he and business partners David Southcombe and Bakker bought it. Although it was a hotbed of creativity, with all sorts of ad hoc projects taking place within its spacious rooms, it was also falling apart. Donaldson knew he could fortify it with steel and restore its charm. They replaced the roof, the gutters, strengthened the trusses, ripped up the floors where they couldn't be salvaged, and removed the wonkiest columns.
"If there are problems, which there inevitably are, he's very calm and there's no recrimination," says McKinney. "So he's very much an optimist - 'let's get this sorted'."
Even a positive attitude was no match for the emotional toll restoring the building would take. It was home to rental tenants including several photographers, a shoe manufacturer, bone carver, a man who made fire explosions for TV ads and a dressmaker (whose children would sleep in the office's loft). All of them had to move out, though few could argue their beloved home was in dire need of restoration.
"People were really wedded to the place which made it quite difficult," says Donaldson. "It was home for them."
Among those former tenants was Colleen Tunnicliffe, one of many photographers attracted to the site's rare work-live properties, spaciousness and proximity to the Mt Eden shops.
"Dave was very up-front about his intentions and I respect that," says Tunnicliffe, who lived at the property for a decade. "Everything he said he'd do, he did."
Although she has mixed feelings about the end result - she says the light doesn't pour into the middle apartments as it used to and she's surprised the building wasn't developed vertically - she acknowledges the enormous financial risk of the project and is pleased the rear end of the site, once hemmed in by overgrowth, has been converted into a wide open space.
"Good luck to them. They deserve all the praise they can get. What they've done is such a good thing because [the] building is a permanent structure now. It retains our heritage - once things are gone, they're gone."
This isn't to say Donaldson is not enthusiastic about creating something brand new. He is. And he's found just the place for it: the North Shore.
He's just getting started there and has several sites he has his eye on for development. But he's already, as one impressed North Shore resident couches it, "putting the 'poon' back in Takapuna". Donaldson can't understand why Takapuna isn't more of a commercial hub. When he heard that fashion designer Karen Walker - a tenant in his Maidstone St property in Ponsonby - was planning an upmarket department store with some of New Zealand's most coveted brands, he suggested they develop the old post office in Northcroft St. Says Walker, he "pestered" her for eight months until she came to see it.
"Where the Department Store ended up it was just a really typical, really run-down, ugly 80s block, with a really run down dairy in it and largely untenanted and just a bit of a mess," says Walker. "Somehow Dave saw this as a great opportunity."
The three-storey Department Store is a homage to style, an open-plan designer hub merging fashion, food and design. Along with Walker, the store has attracted, among others, furniture designer Simon James and Stephen Marr, who has hair salons in the rather more fashionable boroughs of Ponsonby and Newmarket.
Drop $1500 at the DS and you could walk out with a new haircut and a fabulous pair of boots - or a taxidermy peacock. Spartan and industrial in its design, the steel beams that reinforce the ceiling are structured yet elegant; no attempt has been made to hide them.
While some might find a high-concept retail space an anomaly in Takapuna, a part of Auckland not exactly known as a shopping precinct, Donaldson is hopeful such projects will create momentum in the retail community, enticing visitors from out of the area.
Even if the locals don't flock, British style magazine Monacle recently named it the hottest retail space in the world, helping to put it on the map with style-conscious tourists.
Donaldson's original idea was to have a series of segregated shops within the building and when Walker suggested a polar opposite approach of an open-plan warehouse arrangement, "he got it and agreed to it", she says.
"He genuinely cares about the quality and the content of his buildings," says Walker. "Dave's not driven entirely by the money, he's also driven by aesthetics and ideas, creating something worthy and in working with quality people. He's a bit of a big kid, he enjoys having interesting people around him.
"Likewise, when we said we'd need a bloody great spiral staircase cutting through all three levels, he figured out how to make it happen. Those bold decisions take a certain level of creative vision and thinking."
Donaldson is, however, picky about his tenants. He has regularly turned willing parties away, not just at the Department Store but the Steel Works, too. A second visit to the Mt Eden building finds his front office has been sold to a stamp collector.
"I hope it's going to be cool enough," he says.
Might this amount to elitism or snobbery?
"Absolutely not," he says. "You've got to be very careful that what you put in a building fits the criteria. We're always looking to achieve the maximum value of that building, long-term. So as it grows in stature we also like to think that the mix of tenants are really part of that culture and that growth."
This kind of sentiment has got him into trouble before. Although he and his son Craig were largely lauded for developing the Takapuna Beach Cafe, a popular eatery built on reserve land at the foot of Takapuna beach, Donaldson drew the ire of some of the community's residents when he claimed those against the development were "old folk who don't understand what Takapuna desperately needs". Complaints were also lodged about the noisy extractor fans and a hoo-ha erupted over plans to build a staff carpark on public land. The cafe appealed over a consent to build staff parking in the Environment Court and - as far as Donaldson and the mostly grateful Takapuna residents who are pouring into the cafe (even on a Monday) are concerned - Takapuna finally has a great cafe that makes the most of the view.
But all this was nothing compared to an earlier project Donaldson worked on. The old Kiwi Bacon building in New North Rd was, he says, his biggest challenge. Up against strict time constraints, he and his assistant Carolyn James stayed on the site day and night for the four months they were given to complete the project. His wife Ruth, to whom he's been married for 45 years, is very understanding.
"[The building] was a total dive," he says. It had no windows at ground level. One room was riddled with ugly struts supporting a ceiling groaning with abattoir machinery. A phan-tom water source was turning the property into one big, leaky building. Donaldson bored into the ground to find the problem, inserting cameras into the earth before discovering the mystery water was coming from a tenant's poorly-draining dishwasher.
He was also determined to install a glass lift, encased in steel.
"Everyone told me it couldn't be done," he says, as we take the lift upstairs and step out on to a concrete floor that is still gloriously uneven - the concrete was poured straight over the floorboards. Additionally, a fire that ripped through the building has left a blackened scar on the bricks, turning it into a Donaldson-style feature wall.
Somehow it works. Like the Steel Works, each room is completely different and home to a creative business. And like all Dave Donaldson's buildings, it wears its flaws with pride.