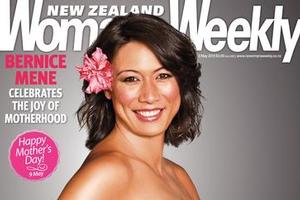 Almost 20 years after Demi Moore caused a sensation by appearing pregnant and nude on the front of a magazine, former Silver Fern Bernice Mene has done the same in an eye-catching New Zealand first.
Mene, 35, nearly eight months pregnant with her third child to husband and former international cricketer Dion Nash, wears nothing but a hibiscus and a smile in the shot by Auckland photographer Emma Bass.
It runs on the front of this week's New Zealand Woman's Weekly.
When the original Demi Moore image was published on the cover of Vanity Fair in 1991, the photo by Annie Leibovitz caused huge controversy.
Since then many celebrities have followed suit, including Cindy Crawford and Britney Spears - but this is believed to be a first for a major New Zealand magazine.
Mene tells the Weekly she didn't make her final decision about doing the shoot until she'd looked at the Moore cover and talked it over with Nash.
"I saw how beautiful that cover shot was and knew it would be tasteful," she says, adding that her husband encouraged her.
Mene says on the day she didn't feel at all uncomfortable about being naked and that the team made her feel relaxed.
"It's a beautiful record of a very special event in my life."
She confesses she probably wouldn't have been brave enough to do the nude shot in her first pregnancies with Solomon (now 3) or India (22 months), but knowing the third child is likely to be the last encouraged her to do it.
Woman's Weekly editor Sido Kitchin acknowledged the photo's potential for controversy.
"This cover might cause a bit of a stir, but I'm really proud of it. It's a celebration and I think it's beautiful way for the Weekly to mark Mother's Day," she said.
"I've always loved the Demi cover. She looked so elegant and serene in all her glory, proudly cradling her big pregnant belly.
"It caused a huge stir when it came out back in 1991, but became one of the most iconic magazine covers of all time and changed the way pregnant women's tummies were accepted moving forward. They were no longer something to be ashamed or awkward about, and hidden under maternity tents. These days, baby bumps are hot property for magazines in Hollywood.
"I've been wanting to do our own Kiwi tribute for ages, but it had to be the right person. Bernice is such a natural beauty and widely loved and admired in New Zealand."
Fiona Ross, a midwife and personal trainer who specialises in exercise for new mums, says celebrities who stay super-slim during pregnancy and seem to bounce back straight after the birth make it hard for other women.
But at the same time, women shouldn't use pregnancy as an excuse to not look after themselves.
"A pregnant body is a beautiful body if you look after it," says Ross.
"It's not a time to sit back and think great, I can eat 10 cream buns and 12 pizzas tonight because I'm pregnant."
Psychologist Sara Chatwin, who counsels pregnant women with body image issues, says mothers are likely to feel more comfortable with their baby bodies by their second or third pregnancies.
"When you're a first-time mum, you're very unsure about what you're going to look like and how your body's going to respond to the hormonal changes, so you tend not to take too many risks.
"It is a brave move," she says of Mene's decision, "and it shows that women can look good in the state of pregnancy and with a bit more weight on."