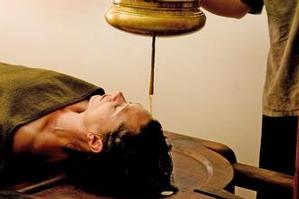 Think globally, act locally is a right-on environmental catch-cry that could equally serve as a mantra for modern-day beauty treatments. There's a wealth of experiences to be had out in the wide world and many of them are now available right here in New Zealand.
Next time you're tempted to take a treatment why not try something different - be it Maori massage, a Thai foot rub or an Indian Ayurvedic facial.
If you seek out an authentic experience, along the way you'll gain an insight into other cultural approaches. After all there's only so many relaxation massages and fluffy facials anyone can take.
Purists may baulk at spas borrowing from here and there to match their zen-like decor, but cultural cross-pollination has been going on since before the Romans shared a bath with Cleopatra. Water, warmth and the pleasure of touch are millennia-old indulgences and kings weren't the only ones whose bodies were ritually anointed with oils.
Massage is one of the easiest ways to get in touch with a different culture.
To experience the centring effect many cultures claim from their favourite form of manipulation, you're best to seek out a specialist practitioner.
Whether you want to simply sample a new way of shaping your eyebrows (definitely give threading a go) or to immerse yourself in ancient Ayurvedic wisdom, you won't have to venture too far off the beaten track. Just look round the local mall, these days there's bound to be some pressure point massage on offer.
If you're trying small neighbourhood salons or clinics, seek recommendations and look for professional operators. You should feel assured you're being dealt with by well-trained staff who can answer your questions and explain their treatments.
Places such as the smartly styled Bliss Reflexology salons, which mainstreamed Chinese reflexology and traditional body massage here, provide a step into the authentic/indulgent therapies that a mainly European customer base generally enjoys.
A similar approach is found in the top spas which routinely draw on Eastern as well as European beauty therapy traditions and increasingly employ a very international mix of staff. Hotel-based spas, with their plush surrounds, make an easy, if at times expensive, way to introduce yourself to the best of all worlds.
Join our tiki tour of some of what is out there.
INDIAN
Ayurvedic medicine is the original holistic treatment and Indian philosophy has long drawn Westerners on journeys of self-discovery. What I learn at Planet Ayurveda is that I have Pitta tendencies (which I very loosely translate to mean a Type A personality with tricky skin) and that in the right hands I can relax enough to really enjoy massage. Enough indeed to drift off and later return to undertake the Shirodhara, in which oil is poured onto the "third-eye" area.
Now being a sceptic, I might have thought (with due respect to a nation's 5000-year-old beliefs) that's bunkum to me, rather than just gosh what a lot of oil to shampoo out. I'm intrigued to be told that this swishing and dripping of warmed sesame oil across my forehead from a beautiful copper vessel suspended from a carved wooden frame is working on my pituitary and pineal glands and should leave me calmer and more centred.
As predicted, I sleep extremely well and I decide that if I wasn't so spiritually lazy I really could benefit from a bit more guided self-exploration. But I'd settle for another 90-minute facial/massage from Anjana any day.
Planet Ayurveda is run from a rambling Mt Eden bungalow by a husband and wife. Dr S Ajit is a former Punjabi government Ayurvedic doctor of international repute. The residential courses he runs attract clientele from Australia and include body treatments and dietary prescriptions for general health and wellbeing. His wife, Rippan Sandhu, is the driving force behind the companion spa business which includes a full skincare range using all natural Indian ingredients. She's overseeing the opening of Spa Ayurveda in a restored Ponsonby villa. It's a big venture, but based on the quality of treatments I tried, it should prove a winner.
"Ayurveda offers a true treatment that detoxifies and rejuvenates," she says. "It's a skin to soul experience."
The beauty treatments begin with a questionnaire to establish which of the three primary energies a client has the strongest tendency towards. Anjana centres herself and then coaxes me to breathe deeply before the facial begins. Fragrant herbs are added to soothing hand-blended oils and lotions to help bring balance. Although the treatment is described as a facial, a real boon is the amount of massage of the lower legs, arms and shoulders. It really hits the spot and I'm impressed by how "present" Anjana is - too many therapists can seem like they're just going through the motions.
Anjana explains afterwards that the Ayurvedic way is to "try to connect with the subconscious mind". She adjusts her ministrations to the individual's diagnosed dosha, their skin type and their responses while being treated.
"If I see a Pitta client I know I need to relax the client more."
So it's calming strokes for me, while those with different doshas might benefit from deeper, more stimulating attention.
This certainly feels like it makes perfect sense, from head to toe.
*A 90-minute facial/massage at Planet Ayurveda, 578 Mt Eden Rd, costs $110 and the Shirodhara $115. Ph (09) 623 2651 or see www.planetayurveda.co.nz.
JAPANESE
There's no water involved at the Stone Spa, just what you perspire and what you drink. This is a unique Japanese treatment, the spa's director, Masa Sekikawa, explains. In a decade, more than 1200 Stone Spas have opened in Japan, where they are called Ganbanyoku. There's a handful in China, Korea and North America and this is the first in the southern hemisphere. The spas use the deep heat generated by far infrared rays (invisible rays of sunlight with the longest wavelength) to penetrate into the body for relaxation and, it's said, immune system stimulation. Overall detoxification and possible weight loss are also cited - the idea being you'll sweat it out.
Indeed you will perspire. I'm told the perspiration won't be salty and this seems to be so, apparently because the slow rise in body temperature helps dispel toxins rather than nutrients like sodium and magnesium lost from exertions such as sport.
Research into far infrared rays is widespread in Japan as are sales of the heat panels. Heat and energy touch therapies tap into ancient beliefs in China and Japan. The promotion of far infrared rays for weight loss (through the likes of heat belts and wraps) is not new, and while the Journal of the American Medical Association has reported a session may burn off plenty of calories, it's also not a generally accepted long-term weight loss solution.
But Stone Spa is a different delivery mechanism for the rays. The treatment involves lying face down wearing a provided outfit of baggy soccer-style shorts and top, on what looks and feels like heated stone floor tiles. A towel-covered panel of basalt emits the rays and negative ions. Five minutes on the front, then a therapist pops in to begin a series of gentle prompts to turn over for 10 minutes on my back, then take a five-minute break in the relaxation room, before a repeat basting.
It's actually much more comfortable and relaxing than being in the searing heat of a sauna or steam room. The temperature is around 45 degrees, so it's definitely warm, but without taking your breath away. There's room for eight people in the spa, with each area made semi-private with an opaque glass divider. It's a woman-only space, except for Sundays when mixed use is permitted.
I decide the spa would be a nice, if a little odd, warm-up/wind-down on a chilly day, especially if the optional massage afterward is added on. The achy skiers and golfers of Queenstown would be prime candidates for any Stone Spa expansion.
*A session at the Japanese Stone Spa housed inside Bliss Reflexology, Level 4, Atrium on Elliot, central Auckland costs $45, with a special $99 deal for a limited time combining the Stone Spa and a one-hour Bliss deep tissue or relaxation massage. Ph (09) 368-1698 or see www.stonespa.co.nz
THAI
The last time I had a Thai massage, I was under a tree on a small island off the coast of mainland Thailand. The air was warm and filled with the sweet smell of incense; the only sound, the swish of nearby waves. I was relaxed, on holiday, and my only concerns whether to head to the markets or laze on the beach. It was bliss, so when the opportunity came to have a taste of this exotic experience in downtown Auckland how could I refuse?
At the Senses Spa at The Westin Hotel I am dressed in Thai fishing pants and a loose top; you are always dressed for traditional Thai massages and there are no oils involved. Thai massage, I am told, was traditionally taught and practiced in Buddhist monasteries as a form of alternative medicine.
My masseuse, Kiriya, is from Thailand and knows her stuff. Indeed, this is not as relaxing as I remember my holiday experience. For a small person she has a lot of strength - or I am carrying much more stress and am more tense. I find it hard to relax as she works deeply and rigorously across my body.
The massage focuses on pressure points, energy lines and passive stretching to help stimulate the body's healing mechanisms and unblock the meridian pathways. I try to relax and succumb to the rhythmic movements, but it is difficult, this is not a gentle affair. Kiriya climbs on the bed and from behind twists my shoulders to the left and right, she works joint stimulation to relieve my muscles and joints of tension and increase flexibility.
"Softer?" I ask and she takes it down a notch, smiles and quietly says "Hard now, but feel good later." And she's right. As I sit in my robe drinking green tea afterwards I feel energised, my shoulders are no longer up around my ears and my whole body is well - relaxed. So relaxed I get joyous giggles in my zen-like state.
-Amanda Linnell
*Traditional Thai massage $140 for 60 min, $180 for 90 min. Senses Spa, The Westin Auckland Lighter Quay, 21 Viaduct Harbour, ph (09) 909 9040 or www.senses.co.nz
MAORI
For a truly indigenous New Zealand spa experience Rotorua is probably the best place to start. Although Maori and other Polynesian cultures have practised massage for centuries it's not much in evidence commercially in Aotearoa, where it's known as miri miri (fofo in Samoa and lomi lomi in Hawaii). Traditional Maori healing also includes rongoa (herbal treatments from land and sea) and karakia (spiritual prayer), with the spiritual dimension being part of the overall treatment.
At Wai Ora cultural spa at Hellsgate thermal reserve just outside Rotorua, the CEO Bryan Evans explains that miri miri's traditional applications were with women around childbirth, to soothe children, to ease the aches of the elderly and to prepare warriors before battle. His iwi The Shirodhara technique at Planet Ayurveda is a continuous flow of medicated oil poured at a specific temperature and height onto the third eye area to calm the nervous system. PICTURE / BABICHE MARTENS
elders have signed off on a spa-friendly version of miri miri that begins with a karakia, wipes the feet to symbolise the leaving of cares outside and then uses manuka and almond oil to work long flowing strokes upwards towards the heart "always the heart, Polynesian, indigenous massage goes to the heart". And then to the face and head before a final karakia.
The overall style is distinctively rhythmic with gentle joint manipulation along the way. Ankles, hips and wrists are given a little workout, a trick used to centre and balance warriors to stand in the feet apart, part-squat position.
Miri miri at Wai Ora is best enjoyed when the body is relaxed with a mud bath and a thermal soak. Mud wraps are found at other venues, but the bath is unique to Hellsgate and the mud comes from the site, which churns out two and a half tonnes of it every day, much of which ends up in the city's not surprisingly shallow lake. Sitting neck deep in an outdoor concrete pool of mud is an odd experience, but not unpleasant, the earth's heat and pressure has rendered the mud fine and soft and imparted minerals that are good for skin condition and have been used in a spa range of skincare.
Hellsgate is a fascinating spot to visit, but for something more indulgent, the Wai Ora Group has developed a separate small lakeside resort with a contemporary spa where miri miri, mud wraps and facials and a kakakawa-infused steam room can be enjoyed.
*Hellsgate Wai Ora one-hour mud bath and spa costs $80, or $90 with park entry. Miri miri massage is priced from $85. Ph (07) 345 3151 www.hellsgate.co.nz and www.waioraresort.co.nz
FRENCH
France is considered the modern home of Western beauty therapy, much as those American appearance medicine clinics might disagree. But there's no doubting that heading to the salon for a facial is a much more entrenched part of a Frenchwomen's routine than it is a New Zealander's.
I go to Exhibit, the reigning top Sothy's spa in New Zealand, to experience the difference. The French skincare company is one of the top half dozen salon brands in Europe and I'm there to try out its Hydroptimale facial, which, as it sounds, is all about hydration. Apparently it's ideal for brides, with a low likelihood of causing breakouts.
Cheryl Welsh, the salon owner/director sends me to sleep - and I mean that in the nicest way. This is no mean feat, I'm not usually very patient with facials, wishing they'd just get on with the job because often it just seems an extended slip, slap, slop routine.
This facial is different, sure there's all the usual steps: a double and exfoliating cleanse, application of a masque, a massage, then a final moisturising layer, but what makes it stand out is the appeal of the aromatic products and Cheryl's massage technique, which assists lymphatic drainage and is deeply relaxing. No wonder French women don't get fat, they're too busy lying around drooling. But I'm not sent off looking all bare-faced and bleary eyed, this is a French treatment after all, so Cheryl expertly applies the finishing touch of a little light makeup.
If this is what Frenchwoman have to put up with every week to present that air of effortless chic, then please let me emigrate.
*The HydroOptimale facial at Exhibit, Shop 1, 2 Claude Rd, Epsom, costs $135. Ph (09) 630 2412.
CHINESE
Chuan Spa guests at the Langham Hotel can, with 24 hours notice, be provided with the services of a doctor of traditional Chinese medicine (TCM) dispensing treatments such as moxy (cupping), herbal remedies, and acupuncture - all within an international five-star environment which was part of a $4 million development of the Langham's spa, pool and health club.
TCM underpins the philosophy at all the Chuan spas, the first of which opened in Hong Kong. Guests fill out a questionnaire and their element of the moment is determined. Today I'm wood, which influences the liver, bladder and eyes.
I undertake the special Year of the Tiger treatment, a body salt scrub and massage which touches on pressure points and follows the meridian lines that Chinese beliefs hold run through the body. With spa staff having to be on top of a host of other conventional treatments it's hard not to feel that some are a little vague about what they're dispensing. The massage owes as much to the standard beauty school Swedish-relaxation model as to the Orient.
But that's carping, I didn't expect the full immersion experience and I did enjoy my appropriate blend of herbal tea sitting up like the Queen in the sumptuous relaxation room.
*The Year of the Tiger treatment at Chuan Spa runs until the end of May, lasts 75 minutes, includes valet parking, and costs $155. Ph (09) 300 2960. www.chuanspa.co.nz