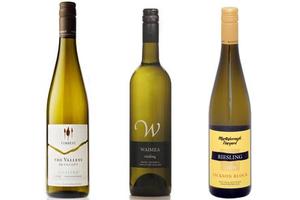 Last week I wrapped up by saying we can all drink expensive wine if we share the cost because enjoyment isn't always proportionate to volume.
But after half a day clambering up Mt Taranaki's formidable northern slopes, volume was precisely what I required. Although I soon found, a little bit goes a long way after a big walk. But it was also the perfect time for some riesling.
The 2008 Spy Valley Envoy Riesling won't win any prizes from me for its over-designed bottle, but the contents prove again that Marlborough is underrated as a top riesling region.
And this wine was far from perfect. Its colour was yellower than it should be at 2 years old and its flavours were developing quickly in the glass - hinting that it needed to be enjoyed soon. Even so, this is a deliciously good wine.
As are two new rieslings from John Forrest, who adores riesling above all other wines he makes, but laments having to focus on wines that drinkers more easily understand.
To help aid that understanding, Auckland restaurateur Nicola Richards from Monsoon Poon has colour-coded the rieslings on her wine list. She offers 13 in four categories: dry, medium-dry, medium-sweet and sweet.
Richards is the first New Zealand restaurateur I've heard of who is brave enough to publish a wine list saying riesling is "the finest white grape in the world". But she is far from alone in thinking so.
Martinborough Vineyards' winemaker Paul Mason says a restaurateur in Brisbane told him they tripled riesling sales because of an explanation about it on the wine list.
"I'm a big believer that explanation is needed for riesling," Mason said as we tasted three vastly different rieslings last month.
"The old hangover is that riesling is sweet, but that's not the reality. The trend is toward drier rieslings."
He now publishes the style of Martinborough Vineyards' rieslings on the back labels - Jackson Block is "dry"; Manu is "medium" and Bruno is "medium/sweet".
Are these small steps too late to help riesling's proportionate decline? National vineyard statistics show that in 2002, there were 529ha of riesling planted nationwide, against pinot gris' paltry 232ha. Today the situation has reversed.
Both grapes have grown in quantity, but it's a sorry state of affairs for riesling.
Winemakers complain constantly to me about how wine drinkers "just don't get riesling, but love the insipid 'charms' of pinot gris". Which is why riesling has risen to 934ha nationally against pinot gris' whopping 1495ha.
The "grey" interloper may have overtaken riesling, but it will simply never have the same vivacious, outgoing personality, let alone the ability to be, as John Forrest puts it, the yin and yang of the wine world.
Wines of the week
2008 Forrest The Valleys Brancott Riesling, $22
Winery owner John Forrest is a riesling fan, accounting for why he released this wine now rather than sooner. It's flavoursome, refreshing, thirst-quenching, succulent and clean. And the relatively low 11 per cent alcohol adds appeal.
forrestwines.co.nz
2009 Martinborough Vineyard Riesling Jackson Block, $25
A stunning wine - thanks to the grapefruit character, the beautifully balanced acids, the ripe fruit and the all-round "drink me now" taste. This will age well, if you have the willpower.
martinborough-vineyard.com
2008 Waimea Estates Bolitho Riesling, $20
Nelson riesling is an unsung star, as this lively, light-bodied, thirst-quenching wine shows.
waimea.co.nz