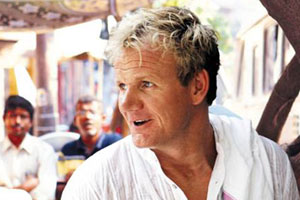 Since I left home and started working, Friday-night curries have become a ritual. Like most people, I have had favourite dishes, which I would order time and again, but overall I felt pretty comfortable with the food and thought that I knew quite a bit about Indian cuisine.
How wrong I was! I had never been to India before this trip and what little I knew about the country and its food was based on general stereotypes and preconceptions. I now realise that it is impossible to summarise the food of a vast subcontinent where differing cultures, religion, topography, climate and history all influence what food is eaten and how it is cooked.
When the opportunity came for a culinary adventure in India, the choice was simple: this was the chance of a lifetime to escape from the grind of daily life and discover the truth about Indian cuisine.
I knew that real Indian food was not to be found in fancy restaurants and hotel eateries; instead I had to travel the country and eat as ordinary Indians do, regardless of caste, class or religious differences.
RECIPES
Bengali prawn curry
Pomegranae and Mint Raita
* Recipes and photographs extracted from Gordon Ramsay's Great Escape: 100 of my favourite Indian Recipes by Gordon Ramsay. Published by HarperCollins Publishers, $54.99. Available now.