Rating: 4/5
Address: 507 New North Rd, Kingsland
Phone: 09 845 5321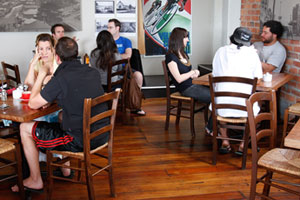 We came here because I'd walked past many times and spotted the enticing front cabinet, filled with wraps and salads, and guessed their brunches would be as impressive.
Parking was not an issue, we walked. Kingsland's not known for ease of parking.
We walked in and immediately though where should we head? Downstairs to the buzzing courtyard for some autumn sun or to the light and airy inside area? A free table inside dictated our choice.
The most unusual thing on the menu was lamb mince with veges on toast ($14.50).
We ordered corn fritters with bacon, tomato rocket and balsamic dressing ($15.50) - the fritters were thick but well-cooked and tasty with plenty of accompanying bacon. The hollandaise on the eggs bene ($16.50) was a little too thin and buttery and the chunky hashcake was slightly under-seasoned but the eggs and bacon were perfectly done. The big hit, though, was the french toast with bacon and banana ($15.50).
A standard brunch item, but the brioche toast was just so light and fluffy, with a lovely subtle vanilla flavour.
The service was super-efficient, especially considering how busy it was. Meals were in front of us before we could blink. There always seems to be a million staff at The Fridge and clearly they're all very on to it.
The coffee was pretty good. Strong.
We recommend if you come here get a pie to take away, because everyone's always raving about them.
Overall we thought you feel like you're in good hands at The Fridge and we'll be back when the need for a fail safe brunch arises.