Address: 854 Dominion Road
Phone: 09 620 8730
Cuisine: Exotic
Herald rating: 7/10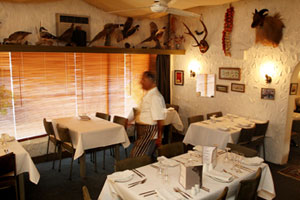 A birthday celebration for my dad provides just the right opportunity to visit a long established restaurant I'd been told was "a real man's restaurant".
What does that even mean, I wondered, but on entering Cazador Restaurant on Dominion Rd I started to get the picture.
Owned and operated by Tony and Barbara Lolaiy for the past 22 years and specialising in game, nearly every bit of white, stuccoed wall space in the dining room and bar are trophies from Iranian-born Tony's conquests in the wild.
Stag heads, stuffed trout and plump pheasants are mounted alongside myriad photographs from various trips to the wilderness. His obsession for hunting and fishing is matched by his passion for cooking and the menu sports an impressive number of dishes representing Tony's Persian heritage as well as his lifetime of cooking in different parts of Europe over the years.
While Tony mans the stoves, Barbara is the consummate hostess - calm, elegant and patient when answering the inevitable questions with regards the wall adornments.
She was also not shy to offer her opinion on what to order when we showed signs of procrastination. This was much appreciated with such a lengthy menu to navigate.
When ordering our bread and dip starters she was quick to encourage us to try the Nan-E-Bakhshi - a warm flat-bread stuffed with a fresh cilantro pesto and parmesan, rolled and gently baked. It was exquisitely tasty, soft and moreish.
I was dithering between the venison chorizo and the stuffed vine leaves as an entree and she stepped in and told me to go for the chorizo as they are made by a speciality supplier, Base Camp Venison. They were wonderfully spicy, dry and smoky, just as a good chorizo sausage should be.
Mum went for the mussels in a cream sauce and reported them to be delicious, and the birthday boy selected the game loaf. The slabs of venison and veal blended with pinenuts, apricots, and juniper berries, were surprisingly lacking in "gamey" flavour but that wasn't necessarily a bad thing. In fact most of the meat consumed during the evening was not overly strong, which may provide some solace for those who find game meat a bit too "gamey".
The non-meat eating sister's calamari starter had her claiming it was "the best calamari I've ever eaten". Marinated in orange juice then char-grilled, it was incredibly tender.
Choices for mains are extensive, ranging from rabbit to pheasant, venison to wild pork, duck to fish and even a selection of pasta and vegetarian dishes.
Dad's choice, Cazador's signature dish, Stoney's Venison, was prepared simply with a creamy sauce draping tender medallions of venison. No complaints from him.
My main course, a traditional Persian dish of duck in a sour cherry sauce, was fall-off-the-bone tender and the sharpness of the sauce did a good job of cutting through the fat of the duck. I was happy enough with my meal until I stole a forkful of the Fesenjoon from my mother's plate. Described as Persia's most loved dish, this was the winner on the night. Chicken pieces are braised in a fragrant, sweet and sour sauce of walnuts, pomegranate syrup and aromatic spices and the result is exotic and mysterious with its rich, gritty, black sauce.
For an eatery that clearly favours meat there are still sufficient choices for those not of the fleshy persuasion. The vegetarian sister was more than satisfied with her main of Keshteh-e-Baboli, an oven bake of eggplant and green beans rendered down with garlic, tomato and parmesan.
Too full to contemplate desserts, we shared a plate of baklava and it won us over by not being drenched in honey. Nutty and sweet, it was delicious.
The best birthday present for Dad was that Cazador, though fully licensed, is also BYO.
Being a collector of wine he laments the lack of BYO options in Auckland so being able to enjoy a wine of his choice for a reasonable $5 corkage was the icing on the cake for him.
There's no doubting that Cazador is one of its kind in Auckland and whether it's game or traditional Middle Eastern influenced fare you're after there's bound to be something on the menu to tempt you.
From the menu: Nan-E-Bakhshi (stuffed & rolled Persian flatbread) $8.80, Babaghanoosh $7.95, Venison chorizo $9.90, Mussels $11.30, Calamari $11.25, Game loaf $10.85, Ordak-Va-Albaloo (duck in sour cherry sauce) $24.90, Fesenjoon (chicken in walnut sauce) $22.85, Keshteh-e-Baboli (Eggplant and bean) $16.50, Venison steak $24.20, Baklava $11.90.
Drinks: Licensed and BYO.
Rating key: 1-4: not good enough. 5-6: ok but needs work. 7: recommended. 8: excellent. 9-10: outstanding, book immediately.