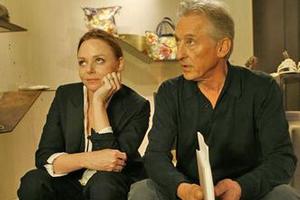 The new series of Iconoclasts is currently screening on the Rialto Channel, with each episode pairing two leading creative innovators from different fields and providing a change from the traditional interview with a journalist. The Viva team is particularly excited about tonight's episode, which teams one of our favourite designers, Stella McCartney, with American artist Edward Ruscha. Watch it tonight at 8.30pm.
Stylish genetics
The new season collection from Los Angeles based denim brand Genetic Denim is in store at Workshop. The brand's signature soft denim is combined with fashion forward shapes, and has high profile fans like Agyness Deyn, Kate Bosworth and Jessica Biel. This season's collection includes a cigarette cut (called The Shane), cigarette cut with zips (The James) and the slouchy cigarette style "The Davis", a sexy update of the classic boyfriend silhouette. For men there are straight leg jeans, a slim cut in vintage inspired washes and even denim sweatpants.
New to Newmarket

Max's new boutique-style concept store is now open in Westfield 277 Newmarket. The new store - in the old Keith Matheson space - opened over the weekend, with a fit-out custom designed by renowned interior designer and stylist Katie Lockhart (she's also responsible for the look of Karen Walker's stores and The Department Store). As well as the new season Max collection the store will feature classic style interiors and art from contemporary New Zealand artists bought specifically for the store - which is sure to have you feeling inspired as soon as you walk in the door.
Expert advice
Lancome has appointed Stefan Knight its new national makeup artist and plans plenty of in-store activity to share the tips he's gleaned working on celebrities overseas. Readers may remember him for his work transforming the contestants on New Zealand's Next Top Model, a role he is set to repeat for the second series to be filmed this year.
Knight returned to New Zealand in 2008 after a successful freelance career based in London, where he worked on top fashion publications, including Vogue, Tatler and ltii-d magazines, doing makeup for the likes of The Killers, Sophie Dahl, Beth Ditto, Annie Lennox, Jerry Hall and many more. "I love the magic that beauty makeup creates, and so I'm very excited to be working with Lancome which is such an amazingly forward thinking and modern luxury brand," he says.
One-on-one consultations with Knight will be available at select Lancome counters starting this week. The French house is celebrating its 75th anniversary this year and its makeup arm is headed by innovative New Zealander Aaron De Mey, whom Knight knows well. He'll be working with De Mey's new O My Rose colour collection. For a consultation fee of $90, redeemable on products, sessions can be booked for a 30-minute skincare session with a consultant, followed by a 30-minute makeover with Knight.
The sessions begin at Smith & Caughey's Queen St store on Friday , followed by Life Pharmacy, Henderson on April 22-24 and Life 277, Newmarket, April 29-May 1.
Eye this up

A clever roll-on eye treatment has been launched specifically for men. L'Oreal's Men Expert Hydra Energetic Ice Cold Eye Roll-On uses a metal ball-bearing to dispense a vitamin C enriched formula to target dark circles and bags and brighten and freshen the skin. The roll-on costs $16.99 and is available from supermarkets, pharmacies and department stores. Garnier makes a similar product and L'Oreal is also using a rollerball in a new facial wrinkle targeter.
Dream dress

The wedding dress featured on the cover of last week's Viva was created by designer Elizabeth Soljak of A La Robe in Newmarket, Auckland. Soljak specialises in creating original dresses with a modern aesthetic. With its halter neckline, fabric flower adornment and flowing full skirt, this gown stands out from the crowd with its elegant, dreamy simplicity. A La Robe, Second Floor, 8 Teed St, Newmarket, Auckland, ph (09) 522 1139 or go to alarobe.com